Puerto Vallarta, Mexico - On Tuesday, March 13th at 5:30 pm, Daiquiri Dick's Restaurant on Puerto Vallarta's famous Playa de Los Muertos will be hosting an 'Arabian Night' to benefit Purr Project, a no-kill feline sanctuary north of the city.
You'll enjoy creative cocktails, a splendiferous array of hors d'oeuvres, and a front-row seat for one of Puerto Vallarta's fabulous sunsets on Daiquiri Dick's outdoor deck - all for a good cause!
Included in the $500 pesos ticket price will be two cocktails, an array of yummy appetizers, an exciting performance by belly-dancers and lots of fun!
Find out what's in your future with a tarot card reading. Tarot cards were first seen in Europe around the 1400s and have been used ever since by psychics to predict the future. The Tarot is the story of the soul - let the cards speak to you as they will.
There will also be a raffle for great prizes, like a Cat Cameo Necklace, a Pandora Bracelet & Charm, Two Dominic Pangborn Seriographs, a Super-Pack of Mexican Wines, an Overnight Stay at Casa Isabel, a Puerto Vallarta City Tour for Two, an Original Painting by Shaman Painting, a Bottle of Premium Tequila and mucho más!
Tickets are on sale now at Daiquiri Dick's, at MailBoxes, Etc. in Old Town, at the Saturday PuRR Project adoption booth in Daiquiri Dick's plaza, or by emailing exkhan(at)usfamily.net.
Proceeds will benefit the PuRR Project feline shelter, which now has more than 200 cats in residence. The adults roam free within a fenced garden, giving them a natural and safe environment in which to live. The kittens have their own nursery, which is an enclosed structure with an open-air patio. The sanctuary also has a "Senior Center" for aging cats require more specialized care and a clinic for surgeries and veterinary care.
Monies raised at the 'Arabian Night' FUNdraiser will help cover PuRR Project's operating expenses which includes veterinary care, spaying and neutering, food, kitty litter, and maintenance of the facility.
Join the PuRR Project team on Tuesday, March 13th for an evening of great food, fun and a chance to meet other animal lovers at Daiquiri Dick's.
PuRR Project is a Non-Profit shelter in Puerto Vallarta, Mexico that provides homeless cats and kittens a recuperative stay with the ultimate goal to adopt them out to loving homes. All of our residents have been sterilized, vaccinated and are disease free. We accomplish this through our own efforts as well as collaboratively with other animal welfare organizations. Both monetary donations as well as donations of dry cat food are most welcome – and much appreciated. Donations 501(c)(3) tax-deductible in the U.S. For more information, visit
PuRRProject.com
or send an email to
info(at)PurrProject.com.
---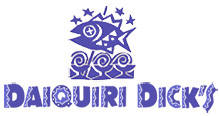 Daiquiri Dick's contemporary design exudes a quiet elegance that invites relaxation, and its tropical location at Olas Altas 314 on Los Muertos Beach offers the perfect atmosphere for enjoying spectacular views of Banderas Bay. For more information, visit DDPV.com.
Click HERE to read more about Daiquiri Dick's.