Puerto Vallarta, Mexico - Join the PV Garden Club for a cup of Capomo and hear special guest presenter and author, Dr. Leslie Korn, who will talk about her recent book, The Good Mood Kitchen, and secret remedies derived from the local plants, fruits and vegetables, on March 15th from 5-6 pm at Incanto, Insurgentes #109 at the Rio Cuale.
Dr. Korn has carried out research on traditional foods and medicines in the Bahia de Banderas region for over 35 years; She conducted research on papaya at the Harvard School of Public Health and was a Fulbright scholar in Mexican Traditional Medicine supported by the Mexican and US governments.
Her talk will briefly review some of the region's more popular and lesser known fruits and plants and explore both indigenous and biomedical scientific knowledge about their nutritional and medicinal value.
She will also discuss the making of the bilingual book, Medicinal Plants of the Jungle, which was the result of a community-wide project to support traditional knowledge of plant and food use in Yelapa and the neighboring villages of the Comunidad Indígena de Chacala.
Leslie will also share a few recipes from her newest book, The Good Mood Kitchen: Simple Recipes and Nutrition Tips for Emotional Balance (Norton, 2017)
'The Good Mood Kitchen' is go-to guide to cooking and eating to reduce pain, enhance sleep and improve mental health. The book provides mood-savvy tips, tools and delicious recipes that guide you step-by-step through the essentials of revolutionizing your diet for optimal health, energy & emotional well-being.
Both books will be on sale and the author will be happy to sign them following her talk.
Come meet the author, celebrate the wonders of the Bay and get some delicious recipes and tips, while learning about the valuable work of the PV Garden Club.
---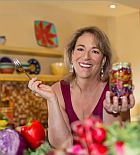 Leslie Korn has lived and worked in Banderas Bay since 1973 conducting research in Traditional Medicine of Mexico. She is a Harvard Medical School and Harvard School of Public Health-educated clinician in clinical practice in Mental Health Nutrition, Integrative Medicine and the prevention of dementia and cognitive decline. She is the author of 7 books including the latest, 'The Good Mood Kitchen.' To learn more about her work, visit DrLeslieKorn.com. She can be reached at lekorn(at)cwis.org.

Click HERE to read articles written by Leslie Korn.