Puerto Vallarta, Mexico - Tragedy has stricken the Amapas Neighborhood Association again. Very sadly, after suffering the recent loss of ANA President Tom Swale, ANA Administrator Viviana Testón learned that her husband Fernando Hernandez had a brain tumor and needed immediate surgery.
Viviana has been Administrator for the Amapas Neighborhood Association (ANA) for several years, helping build it into the successful organization we are today.
Fernando himself was ANA's office assistant until recently. He has always been a helpful, smiling and very capable presence and (among many other things) has helped manage many of our construction projects, like the Calle Hortensias and Highway sidewalk projects.
Fernando had a successful operation in Guadalajara on Saturday, June 1 to remove the tumor. He is recovering and awaiting pathology results to learn more about his prognosis.
Viviana and Fernando have two kids, and Viviana is taking time off from ANA to travel between Puerto Vallarta and Guadalajara to deal with this. They are a strong, loving family, but no amount of love can address the financial burden of such a major surgery.
Many of our members and Viviana's and Fernando's friends have expressed interest in helping offset the medical costs which are already over $250,000 pesos (more than $12,500 USD). The ANA Board voted to establish a GoFundMe account to help the Hernandez/Teston family in its time of need.
Never before has ANA needed to do something so personal for these members of the ANA family who work so hard in the background. Please click HERE and contribute what you can so Viviana and Fernando can focus on healing and the future. Your support could make all of the difference.
---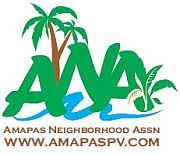 The Amapas Neighborhood Association is the official association of residents and business owners in the Colonia Amapas of Puerto Vallarta. A volunteer and not-for-profit association with about 350 members, the ANA was founded in 2002 to improve the quality of life in Amapas. We work to keep our neighborhood safe, beautiful, desirable and welcoming to tourists and residents from all countries and walks of life. We are also the official "Junta Vecinal" or neighborhood council for Amapas, the legal representative of the neighborhood to the city government. Visit our website at AmapasPV.com to learn more about us and what we do. For details on how you or your building can join, email membership(at)amapaspv.com.