Puerto Vallarta, Mexico - Hot off the press and still warm from the printer, the 2019 PuRR Project calendar is now on sale! All proceeds will benefit the more than 200+ adorable cats and kittens at PuRR Project, a no-kill feline sanctuary just north of Puerto Vallarta.
This year's theme is "Shelter Life: A Candid Look Behind The Walls" of the PuRR Project shelter. See how the 200+ cats and kittens (and one dog!) spend their days at the shelter: snoozing on a tree limb, investigating visiting iguanas, making a dash for the food bowls at chow time, getting baths and regular check-ups from our vet, and playing, playing, playing!
Only $250 pesos for twelve months of PuRR-fectly gorgeous gatos and gatitos, up close and PuRR-sonal. Marilyn Khan is always carrying a supply - stop her on the street or send her an email at exkhan(at)usfamily.net to get yours TODAY!
When PuRR Project resumes their Saturday morning adoption booth at Daiquiri Dick's in November, you can also buy them there. Don't delay - these calendars sell out rápido!
---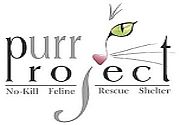 PuRR Project is a Non-Profit shelter in Puerto Vallarta, Mexico that provides homeless cats and kittens a recuperative stay with the ultimate goal to adopt them out to loving homes. All of our residents have been sterilized, vaccinated and are disease free. We accomplish this through our own efforts as well as collaboratively with other animal welfare organizations. Both monetary donations as well as donations of dry cat food are most welcome – and much appreciated. Donations 501(c)(3) tax-deductible in the U.S. For more information, visit
PuRRProject.com
or send an email to
info(at)PurrProject.com.