Puerto Vallarta, Mexico - Here's the latest news from PuRR Project, a non-profit, no-kill feline shelter located just north of Puerto Vallarta, Mexico that provides homeless cats and kittens a recuperative stay with the ultimate goal of adopting them out to loving homes sterilized, vaccinated and disease free.
Adoption Locations
PETCO Puerto Vallarta opened on November 2nd! Their Adoption Center is open all day Friday through Sunday with both cats and dogs, and PuRR will be bringing cats and kittens there each weekend. Opening day was packed and all four PuRR kitties were adopted! We only had three adoptions on the next two weekends however. One great benefit is PETCO offers a coupon package with free food and one complimentary vet visit for anyone who adopts! We will also have kittens at our weekly post at Daiquiri Dicks every Saturday from 10:00 am to 1:00 pm.
Featured Felines: Rhett, Scarlet & Savannah
These three adorable siblings were only about 3 weeks old in October when left in a bag tied to the shelter gate. All seemed healthy, but Savannah, a long-haired calico, was born with only one eye. They went almost immediately to foster with Trisha Aljoe who reports: Scarlet the torti is the smallest and friendliest and chats up a storm with me. One-eyed Savannah is now the biggest of the bunch, she flips on her back and purrs like crazy when I rub her tummy. Rhett warms up when I carry him around and keep talking to him. Everyone is healthy and they love all the kitty toys. If you are interested in adopting one of these special kittens, contact Linda at
adopt(at)purrproject.com
for more information.
Shelter Tours
Shelter Tour dates for December are the 12th and 26th and there is still space available! We pick you up in an air-conditioned van at one of three convenient spots. You'll enjoy seeing some of rural Nayarit on the drive out to the shelter and the chance to enjoy great tacos afterwards in the charming town square in San Jose. But the HIGHLIGHT of course, is the chance to get up close and personal with the cats of PuRR! The "greeters" will meet you at the front gate and hope for treats and the kittens in the nursery love the attention. You can book online at purrproject.com or contact us at visit(at)purrproject.com for complete information and 2019 tour dates.
Upcoming Events
Kitty Bingo:
December 5 & 19 at
Nacho Daddy.
BINGO cards go on sale at 3:00 pm and the games begin at 4:00 pm, so grab a friend, grab a table and join the fun!
Beach Luau at Sea Monkey: Friday, December 14 at 5:00 pm. This one is always a lot of fun with a delicious buffet, great raffle prizes and of course the Polynesian dancers and our annual hula contest on the Malecón.... all on a beautiful beach at sunset! Contact Marilyn at exkhan(at)usfamily.net for tickets. 100% of proceeds on this one go to PuRR, thanks to Troy Valens who provides all the food and drink!
Trunk Show & Brunch: PuRR Project's 2019 Trunk Show is on the books for Tuesday, January 29, at Daiquiri Dick's. The designers have signed on, the models are eagerly awaiting their first fittings, and the runway is getting a final coat of polish. This year, our all-new line of designers will be Maracuya Fashions, Playa Maria Boutique, La Santa, La Sirena Reina Swimwear, and jewelry designer Dee Griffith, so you'll see everything from high-fashion apparel to casual beachwear to flattering swimwear. Tickets for this show will go on sale soon and they sell out fast, so mark the date on your calendar, and watch for the official announcement!
Gracias! Thanks! Merci! Danke! Arigato!
The November Garage Sale was a huge success and we owe a BIG Thank You to everyone who donated and everyone who came out to shop! And of course we couldn't do it without the volunteers who collected items from all over town, spent a day setting it all up and then arrived at dawn to greet the shoppers lined up on the street. PuRR made enough pesos to pay the shelter bills for a whole month... a great start to the season!
For more Kitty News, please visit PurrProject.com.
---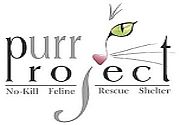 PuRR Project is a Non-Profit shelter in Puerto Vallarta, Mexico that provides homeless cats and kittens a recuperative stay with the ultimate goal to adopt them out to loving homes. All of our residents have been sterilized, vaccinated and are disease free. We accomplish this through our own efforts as well as collaboratively with other animal welfare organizations. Both monetary donations as well as donations of dry cat food are most welcome – and much appreciated. For more information, visit PuRRProject.com or send an email to info(at)PurrProject.com.