Puerto Vallarta, Mexico - Artists from across the Banderas Bay region are coming together to support Puerto Vallarta's Corazón de Niña children's home in an "Artists for Orphans" fundraiser Saturday, March 9th, 1:00-4:00 p.m. The event will be held at the River Café restaurant on Isla Rio Cuale, beneath the Ignacio Vallarta Bridge, in El Centro.
Their art - more than 60 paintings, watercolors, ceramics, sculpture, mixed media, and more - will be available for sale, with all of the proceeds supporting the home's nearly 80 children, from toddlers to high-schoolers. The children and young adults will create their own interpretations of the artists' creations.
The Corazón de Niña children's shelter opened in 2012 to offer a stable, nurturing environment for children from broken homes, dysfunctional families, and other unfortunate circumstances.
Rather than housing the children in an institutional setting, Corazón de Niña provides a real home with house parents and separate residences for boys and girls. Counseling, education and long-term support are provided to help the children grow into successful adults able to support themselves and make their own contributions to the community.
"We so appreciate the efforts by the artists to support us in giving our children opportunities to grow up in ways they most likely would not have," says Melissa Canez, the home's Director and co-founder. "In turn, we invite everyone in the greater Puerto Vallarta area to come and support the artists at this wonderful event, while also supporting the children in our home."
The Artists for Orphans fundraiser will feature live music and entertainment. The River Café will serve tapas and provide a no-host full bar. Tickets are 500 pesos and available by emailing Cecil Kerfont at kerfont(at)yahoo.ca or at these establishments:
• Cassandra Shaw Jewelry, Basilio Badillo #276
• Lucy's Cucu Cabana, Basilio Badillo #295
• International Galleries, Marina Las Palmas 1, Local 8, Malecon, Marina Vallarta
Anyone not able to attend, but still interested in contributing or volunteering, can do so by contacting the Corazón de Niña children's home via Cecil Kerfont at kerfont(at)yahoo.ca or (322) 224-9209. Tours of the home are held weekly.
Corazón de Niña is fully dependent on donations and fund raising events like this for its operations, as they receive no funding from the government. To learn more about this non-profit organization, visit fundacioncorazon.mx, or Corazón de Niña on Facebook.
---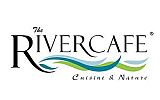 Open daily from 8:00 am to 11:30 pm, The River Café is located at Isla Rio Cuale #4 in downtown Puerto Vallarta. Reservations are recommended and can be made by calling (322) 223-0788 or online at
RiverCafe.com.mx.
Click HERE to learn more about The River Café.