Local Profiles
Sports Medicine and Rehabilitation
a profile of Dra. Valeria Lizaola by Bob Cohen

Upon arriving in Puerto Vallarta in early 2004, Valeria could see that there was a need for more specialized clinics in the area, so she opened up her own medical practice.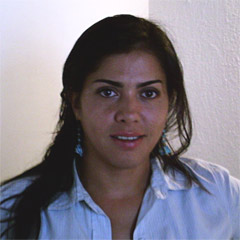 Dra. Valeria Lizaola
Av. Francisco Villa #764
Puerto Vallarta, Jalisco
(322) 225-3137
Cel: 044-322-116-7241
ValeriaLizaola@yahoo.com




I first saw her a couple of months ago sitting ringside at a Muy Thai boxing match at an auditorium in El Pitillal. Very attractive younger women, usually the wives and girl friends of the fighters, are a very common site at these matches, so I introduced myself and gave her my card as a sportswriter for local periodicals. In turn, she handed me her card which read, "Dra. Valeria Lizaola, Physical Medicine and Sports Rehabilitation."


A little later a boxer was hit with a kick to the groin, and immediately the white jacket went on as Dra. Valeria jumped into the ring to attend to the injured fighter. To my surprise, she was the ring doctor and worked on the fighter until he was able to continue to box.


Two more times that evening she was summoned to the ring for injuries. Though she appeared to be extremely competent, her services were free of charge that night, as they are anytime the situation calls for it. Treating those in need at no cost is her way of giving back to the community, as demonstrated by her weekly trips to treat the needy in El Tuito.


I injured my arm playing tennis and called my family doctor and received the information I expected, ice and heat, ibuprofen and use of an anti-inflammatory cream. I had tendonitis and knew that rest was a necessity. But after two days of extreme pain my tennis partners urged me to seek proper rehabilitation, saying that it would result in my healing better and faster - and not would help prevent re injury.


So I searched for Dra. Valeria's business card and called to schedule an appointment that afternoon to begin a whole different kind of treatment. [Which, by the way, was not at all the way I had hoped to meet her again.] Having been active in sports my whole life, I had always tended to self-diagnose my injuries in the past and was surprised at the rehabilitation I needed, which was much different than what my family doctor had told me.


Dra. Valeria Lizaola was born in Guadalajara, not that many years ago. After graduating from high school, she attended the University of Guadalajara (La Universidad de Guadalajara.) After graduation she went on to study General Medicine and became a certified medical doctor.


Continuing her education, she specialized in rehabilitation and sports medicine and studied and practiced for three years at Hospital Civil Guadalajara. She was presented with an offer to work in a clinic in Puerto Vallarta and she accepted. The reason why she came was two-fold.


First, there is a known shortage of specialists in Vallarta, and Dra. Valeria told me that regular doctors here do not, as a rule, send patients for rehabilitation. Secondly, Guadalajara is blessed with many superb doctors, but many choose to remain there and practice in the city.


My take was why a young, attractive, intelligent and excellent doctor wouldn't come to Puerto Vallarta if given the opportunity. And that is just what Dra. Valeria did. Upon her arrival in Puerto Vallarta in early 2004, she could see that there was a need for more specialized therapy in the area, so she decided to leave the clinic that brought her to Vallarta and open up her own medical practice.


I arrived at her clinic and immediately recognized two local Muy Thai boxers I knew who were undergoing treatment. Two other English-speaking people where in the waiting room, and they informed me that I had made the right decision in coming to see Dra. Valeria.


While I was waiting to see the doctor I picked up some literature, which told of her areas of expertise. I was quite surprised at how complex some rehabilitation was. Before reading the brochures, my school of thought was that I just needed a few sessions of ultra-sound treatment, and I'd be on my way.


Sitting in her office ten days later, [and feeling better already,] we spoke about the medical field she chose. Her specialties include bone, muscle and tendon as the general physical rehabilitation. She also does much work with neurological rehabilitation for people that have suffered strokes, paralysis, spinal injuries and Parkinson's disease.


Dra. Valeria Lizaola also treats children with Down syndrome, paralysis and epilepsy. She works with the elderly with cardiovascular rehabilitation, as well as athletes with sports-related injuries. To my complete surprise, she also does a lot of work with post-surgical rehabilitation, such as prosthesis and amputation.


Dra. Lizaola also specializes in pre and post-surgical rehab for prevention of scarring. She treats patients for post-cosmetic surgery, a necessary step in reconstructive surgery that many do not realize. Guadalajara ranks second in the world for the amount of cosmetic surgeries, only surpassed by Rio de Janeiro, and post-surgical rehab allows the surgery to be effective for many more years.


Unlike a doctor I had once in the U.S., Dra. Lizaola didn't attempt to push a cortisone injection, as she explained proper rehab would not only help the injury, but also prevent it from reoccurring, as long as I followed her directions when she allowed me to go back into fierce competition.


My experience with sports medicine was rather new and I needed to throw out many of my preconceived notions. When someone mentioned sports medicine, my first thought was my high school trainer rubbing heat ointment on an injury, regardless of what the injury was. With Dra. Valeria I needed to realize that she was already a medical doctor and she chose to study specialty medicine for another two years before starting her practice.


Her clinic is located across from the Cine Versalles on Francisco Villa #764. Her telephone number is 225-3137 and cellular is 044-322-116-7241. Mention my name and you will be sure to be treated a well as any other patient. We welcome Dra. Valeria Lizaola to Puerto Vallarta to help fill a much needed gap in the medical delivery system here.

If you have a suggestion for a future profile, email us at Profiles@BanderasNews.com
---
Miracles in El Tuito

Bob Cohen

Thursdays are a special day for some kids who live in El Tuito. No, they don't get to skip school nor do they get presents, but instead they receive a special gift from a generous doctor that practices medicine here in Vallarta. Dra. Valeria Lizaola leaves town every Thursday morning for a pleasant one-hour drive south on a mission to help physically challenged kids that live in El Tuito. more »»»

Tell a Friend
•
Site Map
•
Print this Page
•
Email Us
•
Top