Vallarta Living | Resort Lifestyles
Vacation Ownership vs Vacation Rental
Of all the articles you may have read, will read, or friends with whom you may have discussed Vacation Ownership, it all comes down to one question: Do I vacation? If not, then you probably don't need Vacation Ownership. However, if you do vacation, then you owe it to yourself to explore your options.


The decision of owning vs. renting isn't as new as you might think. You've actually made this decision before, for example when you chose home ownership vs. home rental. Do you recall the most important reason you chose home ownership? Weighing all of the advantages and disadvantages of vacation ownership is very much a similar task.

Let's explore your options:

Option 1 - Renting
By renting, you fill an immediate need. However, after continued rental over a period of time, you will have nothing to show for the thousands of dollars you've spent.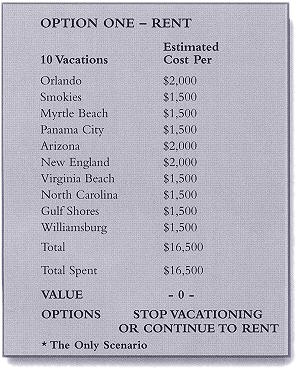 Consider the fact that when you purchase a home and live in it for 5-10 years, the probability is you will sell your home for more than you paid for it. Which, in turn, means even though you paid a monthly mortgage while you lived in it you received all your money back. Vacation Ownership takes the same concept and applies it to your vacation time.


Example: Most Americans spend between $1,000-1,500 dollars per week vacationing. Multiplying that figure by 10 years equals $10,000-15,000 spent vacationing. This amount seems hard to comprehend as a total sum; however, it shouldn't surprise you that if at the end of 10 years you wish to continue vacationing, the financial cycle starts all over again. Vacation Ownership fills the endless void of monetary planning for vacations and allows you to own your vacation time. Wouldn't you like to have the opportunity to not only afford your vacation time without the stress of saving all year for that one week vacation, but also know that the same money you have designated could take you anywhere your heart desires?


Option 2 - Owning
The average Vacation Ownership plan will cost between $10,000-20,000. Cost will vary depending on where and what you purchase.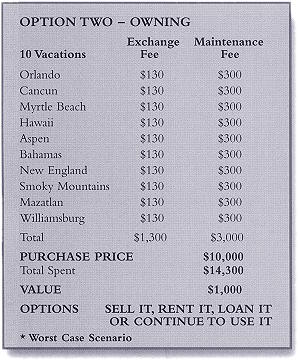 At any rate, let's say you own Vacation Ownership and vacation the same 10 years you were going to rent. Just like home ownership, you will have not only taken 10 quality vacations, but you will also have something to show for the money you've spent. As an added bonus you can continue to vacation the rest of your life virtually cost free. The only additional cost you will encounter will be a minimal maintenance fee and the exchange fees, if you decide to exchange your vacation time.


No doubt you have heard pros and cons concerning Vacation Ownership.As with anything in life, to fully assess the situation you must consider the good and the bad aspects. So lets just examine the scenario of purchasing Vacation Ownership. Assume you purchased Vacation Ownership and its value decreased over the next 10 years and it cost $10,000 originally, and at the end of 10 years it was worth $1,000. Look closely at the examples examining both renting and owning. At the end of 10 years where would you rather be?


Would you rather rent for 10 years and have nothing tangible to show for your vacation dollars? Or, would you rather own, and at the end of the same 10 years have taken 10 fabulous vacations and still own your lifetime of vacations. The bottom line is, you are probably going to spend the money anyway. Wouldn't you rather have the luxury of taking your family to visit these unforgettable locations with the same money? Understanding the whole point of Vacation Ownership is to take a break, not just in the concept of time but also from the everyday aggravation of contemplating solutions to work on money problems.


The examples given are not the only options available. The third option is, you can stop vacationing and avoid this decision altogether. For most folks, the third option is not a consideration. The sole purpose of this article is not to sell you on the benefits of Vacation Ownership, it's simply to encourage you to examine the advantages and disadvantages for yourself. Sit down with your family and make a list of all the places you would like to vacation over the next 10 years. Estimate the cost and you determine for yourself if Vacation Ownership would benefit you and your family.


If so, contact a Vacation Ownership resort in an area you enjoy and set up a tour of the resort. Before you go, check cost, financing, and amenities. If you need help regarding Vacation Ownership resorts in your preferred area or if you have a question concerning Vacation Ownership, contact us.
Tell a Friend
•
Site Map
•
Print this Page
•
Email Us
•
Top