Vallarta Living | Puerto Vallarta Weddings
Church Weddings in Puerto Vallarta Mexico

Puerto Vallarta is home to a wide range of churches and temples, including Catholic, Baptist, Evangelical and Protestant. In Mexico, church weddings for foreign citizens require additional paperwork and planning, so if you want to get married in a church in Puerto Vallarta, you must start planning your wedding as far in advance as possible.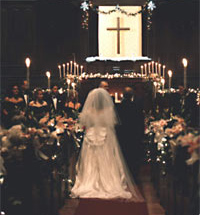 To be married in a church in Mexico, you need to obtain documents from your parish at home and comply with the church's premarital procedures and marriage preparation programs. Let us assist you in preparing for one of the most wonderful experiences of your life — celebrating your love and marriage in a church wedding in Puerto Vallarta Mexico.


The professional wedding coordinators in Puerto Vallarta can provide you with information about the required documents, church procedures and policies, and offer you support and direction before and during the wedding ceremony. Please note that in Mexico, church weddings do not change your marital status, so you should get married by a Justice of the Peace before your Puerto Vallarta church wedding.

Local Churches in Puerto Vallarta Mexico
CATHOLIC


Our Lady of Guadalupe Parish
Parroquia de Guadalupe
Hidalgo #370
Downtown Puerto Vallarta
Tel: 222-1326


Sacred Cross Parish
Parroquia de la Santa Cruz
Lázaro Cárdenas #395 at Aguacate
Tel: 222-0989


Our Lady of the Refuge Parish
Parroquia de Nuestra Señora del Refugio
Corner of Perú and Argentina
Tel: 222-4980


San Rafael Parish
Parroquia San Rafael
Calle Jamaica
Tel: 222-2440


Sacred Heart of Jesus Church
Templo Sagrado Corazón de Jesús
Plaza Paritzica # 17 Col. Aramara
Tel: 224-0329


Virgen of Talpa Church
Iglesia de la Virgen de Talpa
Plaza Central Sur #167
Tel: 224-1323
BAPTIST


Centro Cristiano Nuevo Amanecer
Sierra Aconcagua #111
Tel: 223-2020


Primera Iglesia Bautista
Argentina #181 at Parque Hidalgo
Tel: 222-1722 or 223-1322 for English
EVANGELICAL


Apostolic Church-Faith in Christ
Iglesia Apostólica de la Fe en Cristo
Costa Rica #1422
Tel: 224-9682


Jehovah's Witnesses
Testigo de Jehová
Libramiento #244
NON-DENOMINATIONAL


Christian Interdenominacional Church
Lateral Libramiento #332
Tel: 222-4019


Light of the World
La Luz del Mundo
Col. Hermosa Provincia
Tel: 224-8273


New Dawn Center
Centro Nuevo Amanecer
Ave. Las Palmas
Tel: 222-3330
PROTESTANT


Seventh Day Adventist Church
Iglesia Adventista del Séptimo Día
Roma #188
Tel: 224-8422


Iglesia Eben-Ezer
Juan Escutia #301
Tel: 224-2630


Parroquia de San Miguel-Arcangel
Corner of Independencia and Zapata
Tel: 224-2053
MORMON


Church of Latter Day Saints
La Iglesia de Jesucristo de los Santos de los Últimos Días
Emiliano Zapata #420 Col. Valentín Gómez Farías
• B E L O W T H E F O L D •
Hey Bonita, you want a Mexican Husband?

JOY!

My girlfriend emailed me and asked "What are the men like in Mexico? Are Latin men really different from American men? Should I bring my search for a husband over there?" Yes, they most certainly are different, and it's WONDERFUL!
more »»»
---
Tell a Friend
•
Site Map
•
Print this Page
•
Email Us
•
Top