Vallarta Living | Puerto Vallarta Weddings
Legal Requirements for Civil Weddings in Mexico

In Mexico the only marriage that is legally valid is the civil ceremony, which is performed by an officer of the Registro Civil, the Mexican equivalent of the Registrar General's Office. By planning ahead and getting a few documents together, filling in a few forms and paying a few fees, your Puerto Vallarta wedding ceremony will be completely legal in your home country.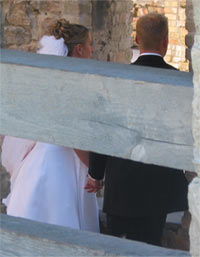 Listed below are the required documents needed for foreign citizens who wish to be legally married in Mexico. All documents must be translated by an authorized translator in Puerto Vallarta. You should acquire these documents and send them to your Adventure Wedding coordinator at least one month before the ceremony to allow time for translation.


Once you arrive in Puerto Vallarta, the Justice of the Peace will need to meet with the bride and groom at least 2-3 days before the ceremony to process the paperwork. Legal weddings in Puerto Vallarta currently cost $595 USD. [Rate is subject to change.] The wedding ceremony is performed in Spanish, and an official translator is included in the price.


Documents required by Mexican Law & the Civil office in the State of Jalisco
[You must present the originals, so make two copies of every document]

Application for Wedding License (provided by Adventure Weddings) Application must be fully completed, with witness names and all spouse and family information.

Birth certificates with apostilles.*

Official copies of your birth certificates which have been apostilized by the Mexican consulate in your home country will first need to be sent to our wedding coordinator, preferably 3 months before your wedding date. You must also bring the originals with you to Mexico.

Photocopies and originals of the couple´s valid tourist cards (FMTs)/visas and valid passports. If you do not have a passport, your apostilized birth certificate and a valid driver's license [with photo] will suffice.

Death certificate of spouse, if applicable, with apostille.*

If you are widowed, one full year must elapse from date of the death of previous spouse and a certified copy of spouse's death certificate must be presented.

Divorce papers, if applicable, with apostille.*

If you are divorced, one full year must elapse from date of the divorce from the previous spouse, and the final dissolution of marriage must be verified with a certified copy of the divorce decree.

A blood test must be taken once you arrive in Puerto Vallarta [These tests must be taken no more than 14 days before wedding date.] Tests must include STDs, blood type, and Rh factor. HIV testing is optional. If you go in early in the day, the tests will usually be ready the same afternoon. The blood tests are currently about $100 USD per couple, but is subject to change.

Four witnesses, age 18 or older. They can be either Mexican or foreign citizens, as long as they bring valid identification (passport or, in the case of Mexican citizen, valid voter registration card.) However, if the witnesses are foreign, they must bring the original as well as copies of their valid tourist card/visa. The parents of the couple may not serve as witnesses to the marriage. If witnesses are needed, we can provide them at no additional cost.


Fulfilling these requirements (excepting the Apostille) will take you about 2 to 4 days. You will need to apply for the Apostille in your country of origin. This can be a lengthy process, so we recommend you start the apostille procedure as early as possible.

*All of these documents must have an apostille in order for the Civil Register Office to consider them valid and legal. The apostille must be acquired from the Secretary of State's Office in the state where you were born. Canadians must have these documents certified at the Mexican Consulate's Office in Canada. The marriage cannot be celebrated without fulfilling these requirements.

Please note that these marriage requirements are for two foreign citizens. If one of the people to be married is a Mexican citizen, the process is lengthy and you will need to present your papers to the Instituto Nacional de Migración in advance. We recommend applying through the Guadalajara immigration office. The foreign citizen must apply to request permission to marry the Mexican citizen, and if permission is granted, the wedding must take place within 30 days.


In order to marry a Mexican citizen, you will need to submit the following paperwork to immigration:

Completed permission form

Original and copy of your valid tourist card (FMT) or visa

Original and copies of each page of your valid passport

Original and two copies of the payment for processing

Letter signed by both bride and groom, stating their intention to marry

Original and copy of identification of the Mexican citizen, accrediting his/her nationality

• B E L O W T H E F O L D •
Hey Bonita, you want a Mexican Husband?

JOY!

My girlfriend emailed me and asked "What are the men like in Mexico? Are Latin men really different from American men? Should I bring my search for a husband over there?" Yes, they most certainly are different, and it's WONDERFUL!
more »»»
Tell a Friend
•
Site Map
•
Print this Page
•
Email Us
•
Top