Vallarta Living | March 2009
Becas Crystal Ball a Great Night for All

Polly G. Vicars - PVNN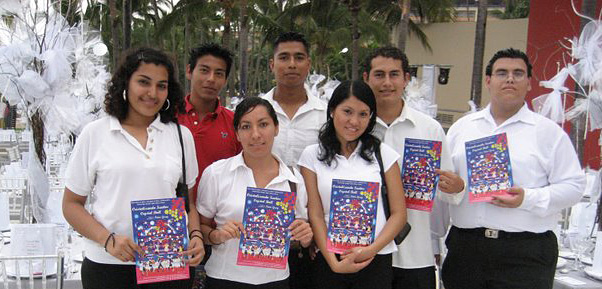 Handsome and helpful University Scholarship students pose between chores of setting up for the ball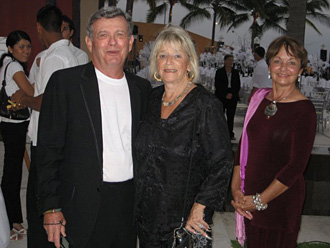 Co-Chair Elinor Prawer with her dapper husband Harvey and Becas member Ann Lafferty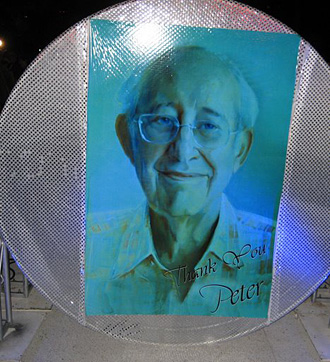 A tribute to our honoree, Peter Gray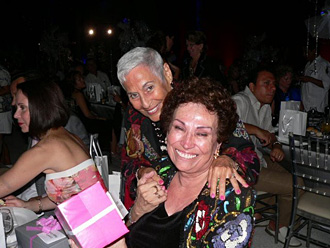 I couldn't resist a photo with my beautiful friend and the evening's star, Buri Gray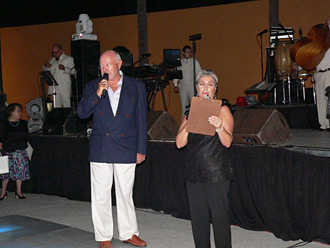 Presidents Mariel and Carlos Fregoso of Becas Vallarta and America-Mexico Foundation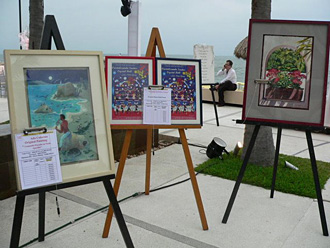 Ada Colorina and Meg Monroe's fantastic paintings and the now famous Peter Gray poster of the 1998 and 2009 Becas Balls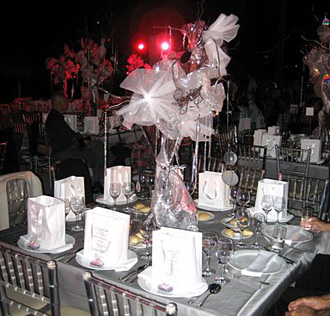 Beautifully appointed tables by Karla Rangel's Trendy, Francisco Salazar's Vodax and Mandala showing the Becas Gift Bags and Marcia's exquisite favors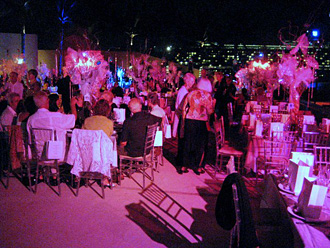 Good will, music and fun filled the venue

The eight handsome University scholarship students who arrived at the Westin very early to help set up for the ball, not only did a prodigious job, but learned that the event would help to insure the continuity of theirs and other's scholarships until they reach their educational goals.


Final figures are not yet calculated, but with record sale of tickets and proceeds from the Silent and Live Auctions, we can safely say that all is well for now.


The weeks and months of planning by Co-chairs Elinor Prawer and Pat Bendix with Wedds Planers Estrella Rodriquez, Paula Arredondo, Joanna Otero produced an evening unlike any other in the more than 15 years of Becas Balls. Elegantly decorated tables with their spectacular centerpieces designed by Francisco Salazar's Vodax were enhanced by two new and innovative additions.


Becas supporter and dynamo Larry Sheldon thought the Becas Ball should have some "show biz" pizzazz for the hundreds of Vallartenses who support the foundation by attending the ball. Thus "The Crystal Ball Gift Bag" was born.


Larry met with Seńor Felipe Suberville Sota, manager of the Puerto Vallarta Liverpool Department Store, and Voila! Liverpool became the principal sponsor of the Gift Bag. He then asked Kérastase Paris to supply the elegant white bags and Office Depot to print the labels. All that secured, he personally went to local businesses soliciting 350 of whatever he was asking for!


The results were that every guest received candied nuts made in the traditional Mexican way from Con Orgullo Azteca, a little bottle of Tequila from El Coyul Liquor Store, a decorative candle from Elements of Design, a cosmetic sample from Liverpool, a sample hair treatment by Kérastase Paris by L'Oreal, a vacuum sealed sample bag of locally roasted export quality beans from Memo's Gourmet Coffee, hand made soap by Pat Light of Banderas Soap Blends, a sample of exfoliating salt scrub and a bar of exfoliating facial soap from the spa at blu and pieces of the wonderful artisan chocolate from Xocodiva.


Not only did Larry solicit all of those great gifts, he, along with his dear friend and local Vallarta resident, Sally Heffron, and Len's visiting Mom and Aunt, packed each bag and delivered them to the venue! Heartfelt thanks to all the donors and to Larry and his group for this monumental undertaking.


There was a very special scroll included in each bag, a re-printing in both Spanish and English of my tribute to Peter Gray written after his sudden and untimely death. I was deeply touched that my friend Buri Gray approved of everyone receiving my words that could not adequately describe My Friend Peter.


Before I knew about the Crystal Ball Gift Bags, I went to my friend, local business woman and Becas supporter, Marcia de Escontria of Ambiance by Marcia to ask her if she could design a small favor to give to each guest. Two days later she called me to come see what she had devised. It was a tiny match box that she painted, put the Becas logo on, glittered, wrapped in tulle and tied with a silver bow!


When I asked the price, as Husband and I were going to pay for them, she said, "No charge! I want to donate them!" Did she realize we needed 350? Yes! Could she do all that work and have surgery on a bum knee too? Yes! She enlisted Nancy and Nina and everyone else she knew, and they painted and glittered until the 350 exquisite favors were ready to be placed on each plate at the ball. Another huge thank you to Marcia and the gals!


Becas members wanted to serve wine to the guests, but wanting to keep expenses to a minimum, I volunteered to try to get the wine donated. We needed 12 cases so every table would have 2 bottles of red and 2 of white. I envisioned asking each of the restaurants that are always so helpful to Becas for 1 case. But first I called Bruce of Teatro Limon to ask his advice on what kind of wine to solicit. When I told him what I was doing and how much I needed. He said, "I'll call you right back."


Thinking I was getting the brush off, I said a dejected OK. Two minutes later he called to tell me that he had talked with Bernard at Trio and that the two of them would donate all 12 cases of very good wine. Another proof of the generosity of spirit of the business people in the community. Thank you Bruce! Thank you Bernard!


While all of this was going on, Becas members were busy selling tickets, keeping track of who bought them and with whom they wanted to sit. This is a task that could not have been done without the expert computer skills and the unfailing willingness to do whatever is asked of her, of Becas member Linda Wirth. You go gal!


Others were out soliciting gifts for the Silent and Live Auctions with great success. Original paintings by Meg Monroe, Ada Colorina and Marta Gilbert were show stoppers and brought in lots of pesos. A Manuel Morelos original ceramic bowl donated by Ted Pentecost caused a bidding war that was finally won by Becas supporter Ron Morgan. A fantastic Ramiz Barquet sculpture also caused a stir and the victor was Seth Cloutman, a donor of a dinner for 8 in the buyer's home.


Guests arrived at the event to the music of the fabulous Los Bambinos who entertained during the complimentary cocktail hour generously hosted by the Westin Hotel. From that casual setting seaside, they moved to the elegant dining area, also seaside, sparkling tables surrounding the lighted dance floor with the music of Grupo Odisea coming from a huge raised stage that not only held the magnificent musicians, but talented gals and guys singing and dancing their hearts out.


After a brief welcome from Presidents Mariel and Carlos Fregoso and a poignant salute to Peter Gray by impeccably dressed MC Len of blu, and his snappy translator, Ciergio Gonzales Villa, it was full speed ahead.


Almost simultaneously wine flowed, hot and delicious dinners arrived and the dance floor filled. The dining and dancing were augmented by a spectacular explosion of fireworks by Jose Guadalupe Rodriguez and a thrilling fire dance show by Semilla Jaguar.


Music, laughter and good will added to the scented sea air with nary a drop of rain, although it was falling in town and north of us. What does that tell you about the Becas Ball? So mil gracias and a huge thank you to everyone for making this year's Becas Crystal Ball truly "a ball!"
---

Polly G. Vicars and her husband of almost 60 years, Hubert (a.k.a. "Husband") retired to Puerto Vallarta in 1988 and soon became active members of several charitable organizations. Polly is the author of "Tales of Retirement in Paradise: Life in Puerto Vallarta, Mexico" [a sell-out!] and "More Tales of Retirement in Puerto Vallarta and Around the World." Proceeds from the sale of her books go to the America-Mexico Foundation, a scholarship foundation that is their passion.

Click HERE for more articles by Polly Vicars, or click HERE to learn more about Becas Vallarta and the America-Mexico Foundation.
Tell a Friend
•
Site Map
•
Print this Page
•
Email Us
•
Top