Vallarta Living | July 2009
Puerto Vallarta Loses Another Icon ... First Liz ... Now Len

Clay Birder & Larry Sheldon - PVNN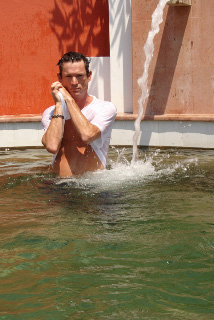 Stop by blu salon on Saturday, July 11th to say goobye to another Puerto Vallarta icon... the unforgettable Len.
Everybody knows that the infamous Liz Taylor put Vallarta on the map when she left her husband, Eddie Fisher, to fly down to Puerto Vallarta for a torrid affair with Richard Burton while he has filming The Night of the Iguana. Most people even know that Liz and Dick lived in Casa Kimberly up in what became known as Gringo Gulch (now owned and being totally renovated by Janet Chatterton, the magical proprietress of Hacienda San Angel, just around the corner.)


But many of you may now know that Liz didn't just use Vallarta for a short tryst with the handsome Dick. They got married, and he actually gave her Casa Kimberly as a wedding present. They spent years and years living part time in Vallarta, building the famous bridge across the street in front of Casa Kimberly, so that Liz could have a pool and Dick could have a place to smoke his cigars, which she would not allow in the main house.


They were married and lived in California, but they used to charter a plane just to fly themselves and their children down to Vallarta for a lengthy stay. This went on for the ten years of their first marriage. Dick built an orphanage for her, and they did many, many other things for their beloved city. Liz became a true icon in Puerto Vallarta. After their divorce, she hardly ever came back and totally stopped after his death (which was after their second marriage, which only lasted a year.)


So Vallarta lost it's famous icon, Liz. And now, we're about to lose another celebrity of sorts ... another icon of Puerto Vallarta to many of us ... the unforgettable Len.


Len first came to Vallarta as a tourist in 1999. He moved here in 2002, spending the 5 months of each winter. Then, in 2004, he sold everything in the States and made Puerto Vallarta his home. The very next year, he and his partner, Larry, designed, built and opened blu by len, the ***** salon and spa, on upper Olas Altas. Len was already writing columns for the local English-language news outlets, and with the spectacular grand opening party he threw in the street in front of blu, another icon was born.


Len's local celebrity status just grew and grew. Soon, he was emceeing all kinds of charity events. There was the charity bingo series where the famous blu swimsuit was modeled each week, autographed by the winner and given back to the cause to be auctioned again the next week. He was the first "guest host" at what became the noted charity night at Debbi Egan's Banana Cantina. And every time he did it, he seemed to raise more money than anyone else could even approach.


No one will forget his "Come Out in Red" or "Vistete en Roja" rally in front of blu, held in conjunction with the American Heart Association's Red Dress campaign, to make Vallarta's women more aware of their high risk of heart disease.


And then there were the annual anniversary parties, held in the street on Olas Altas, with fashion show runways built on the sidewalk in front of blu. Totally professionally done with music, stage lights, wonderfully fashionably clothes and incredible hair styles produced by Len's talented staff. The headline in one local newspaper reported one of those events with the headline "Blu Goes Wild!"


But his greatest notoriety came from his recurring articles in the news outlets. He gave beauty tips, to be sure, but he was hilarious in between: threatening to go out on the street with his scissors and cut off the pony tail of any man over 50; calling ladies wearing Crocs in the evening as just misplaced gardeners; crashing down on women who put color on their hair bought at a supermarket or farmacia, imploring them to "step away from the box, Girlfriends, just step away from the box"; and trashing anyone who came in for a color-fix of their orange or green hair after having gone swimming in a chlorine-infused pool. His hilarity in print went on and on.


Well, just as the great icon Liz finally left Vallarta, now it's losing Len. He's moving back to the U.S., having bought a house in St. Petersburg, FL. He just couldn't give up the views of the water.


Saturday, July 11, will be his last day at blu. You are invited to stop by for a glass of wine and to say good-bye. Oh, he'll be back ... as a tourist, for sure, and maybe as a guest instructional cosmetologist. But all you regular clients out there and all you regular readers are invited to stop by the salon to say "so long ... 'til next time" between the hours of 10 am and 6 pm. It may be your last chance to burst out laughing at one of the funniest local icons we have ever had.
---

Given that Len's very first word was "more," and the second one was "pretty," it is no wonder that he was not only the Stylist Manager in the #1 salon and spa in Puerto Vallarta, blu, but also wrote an entertaining and informative beauty column, "len's life" for BanderasNews.
Click HERE to read articles by, and about, Len.
Tell a Friend
•
Site Map
•
Print this Page
•
Email Us
•
Top