Vallarta Living | December 2009
Two Paws Up for the 4th Annual Pet Picnic

Laura Gelezunas - PVNN
December 14, 2009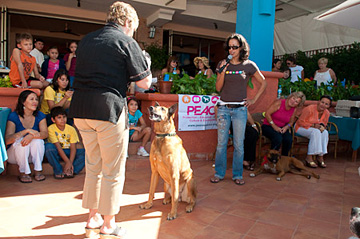 Over 50 dogs and their owners had a howling good time at the 4th Annual Pet Picnic at Daiquiri Dick's on December 5th. (photo by Christine Vincent)
Over 50 dogs along with about 40 pet owners had a howling good time at the 4th Annual Pet Picnic. The patio at Daiquiri Dick's restaurant continues to host this animal lover's annual event, which took place this year on December 5th.


"This is our first time attending the Pet Picnic," says Linda Lestz, Animal Lover, "My husband and I have lived here five years and wanted to come and support PEACE and all the great work they are doing to ease animal suffering."


It's all about the treats. Guests enjoyed a doggie bag while their friends dug into a gourmet-boxed lunch. The entertainment included the best-trained competition, which show cased doggie talent. Plus, the animals strutted their stuff during the best costume contest. Robin Hood took the prize beating out a hot dog and the bride and groom.


A raffle for a bevy of prizes and a silent auction continued the effort to raise money for Ayuda a los Animales, part of the PEACE non-profit association. This organization conducts mobile, high-volume spay and neuter clinics throughout Banderas Bay.


The Pet Picnic is a great event to meet other animal lovers and their best friends.


"My dog, Maxi, goes to almost all the places in Vallarta with me," says Linda Lestz, "He's welcome everywhere and it's great to visit dog friendly establishments."


Ralph Gladstein holds his tiny dog and says, "I wanted him to socialize and meet some of the other dogs that are here, but of course, he wants to play, but that's pretty good for this shy guy."


A live pet parade was held to feature area foster dogs and cats. Five puppies were adopted, along with two kittens. This is simply a fantastic amount for one day.


Just over $16,000 pesos were raised at this tail-wagging event.


Organizers would like to recognize the following businesses for making this year's Pet Picnic a success.


• Beauty Spa Oseano Pacifico, #2528 Palmar de Aramara, Tel: (322) 225-3829


• Caracol Vet, Plaza Caracol Loc. 27-F, Tel: (322) 225-0412


• Del Sol Vet, Ignacio L. Vallarta #316, Tel: (322) 222-5540


• Savet, Colombia #1302, Col. 5 de Diciembre, Tel: (322) 222-4379


• Sabuesos, Colombia #1198, Col. 5 de Diciembre, Tel: (322) 222-5775


• TlacaeleL, Av. Las Palmas #223, Col. Parque las Palmas, Tel: (322) 290-3640


• Wolf's, Milan #301-A, Col. Versalles, Tel: (322) 293-4474


• Daiquiri Dick's, Olas Atlas 314, Los Muertos Beach, Tel: (322) 222-0566


• Dog Gone Good Spa & Kennel


• Marie O'Connor Legal Services


• Curvas Peligrosas, Juarez #178, El Centro, Tel: (322) 223-5978


• Master Goldsmith


• La Bodega de Nina


• Cafe Bohemio


• Cassandra Shaw Jewelry


• Vinos & Wine


• Joe Jack's Fish Shack


Many people are already looking forward to next year's event.


To watch the video from this event, be sure to watch the December 15th episode of Banderas Beat.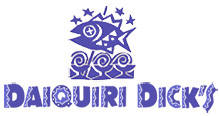 Daiquiri Dick's contemporary design exudes a quiet elegance that invites relaxation, and its tropical location at Olas Altas 314 on Los Muertos Beach offers the perfect atmosphere for enjoying spectacular views of Banderas Bay. For reservations call (322) 222-0566. For more information, visit DDPV.com.

Click HERE to read more about Daiquiri Dick's.
---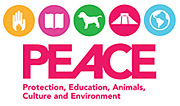 A Banderas Bay non-profit organization, PEACE acts as an umbrella organization for four charitable programs, Casa Comunidad, Ayuda Los Animales (Help The Animals), a Women's Co-Op (Manos de Mujeres Unidas) and Community Pride. It is a U.S. non-profit 501(c)(3) organization, which accepts tax-deductible donations and a Mexican Civil Association that issues facturas for donations. For more information, please visit PeaceMexico.org or click HERE to read more about PEACE
Tell a Friend
•
Site Map
•
Print this Page
•
Email Us
•
Top