Technology News
Faked in China: Inside the Pirates' Web

Doug Palmer & Melanie Lee - Reuters
go to original
October 26, 2010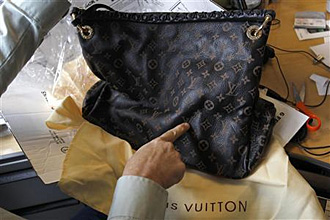 A Reuters reporter examines a fake LVMH handbag purchased from a China-based online website in this shipment delivered to the Reuters office in Washington, October 5, 2010. (Reuters/Hyungwon Kang)
Washington/Guangzhou - Anybody could tell right away that the Louis Vuitton shoulder bag was fake because it was delivered in a recycled box that once shipped batteries.


Warnings printed on the inside of the box read: "Danger Contains Sulfuric Acid" and "Poison - Causes Severe Burns" - not the sort of messages that would normally accompany a product from one of the world's most iconic luxury brands.


But it sure looked real. It was dark brown, sported a braided strap with brass fittings and the Louis Vuitton monogram stamped all across the bag.


I had ordered the bag from a website called www.ericwhy.com for this special report, which explores the growing problem of counterfeit merchandise sold over the Internet.


Reuters wanted to trace the problem from a consumer in Washington D.C. to the shadowy producers based in Guangzhou China, where my colleague Melanie Lee found the illicit workshops and markets.


Ericwhy, based in Guangzhou, calls its stuff "designer-inspired alternative to actual Louis Vuitton" in a disclaimer on its website. "We assume no civil or criminal liability for the actions of those who buy our products."


Yet, U.S. law enforcement officials say this website and many others that offer a dazzling array of goods online - clothes, electronics, footwear, watches, medicines - are outlaws, and they plan to go after them hard.


Counterfeit commerce over the Internet has soared in the past couple of years, turning what had been an irritant to businesses into a serious competitive threat, the officials say.


The Organization for Economic Cooperation and Development estimates the amount of counterfeit goods and pirated copyrights in world trade grew from about $100 billion in 2001 to about $250 billion in 2007, the last year for which they have made an estimate. While there are no separate estimates for how much of that is sold on the Internet, authorities say it is considerable.


"The Internet has just completely changed the face of the problem, made it more complicated and more pervasive," says John Morton, assistant secretary in charge of U.S. Immigration and Customs Enforcement (ICE). "Whole industries now have been attacked, not from the street, but from the Internet."


Visitors to www.ericwhy.com can choose from more than 1,800 imitation Louis Vuitton bags, ranging from a pink shoulder tote and a tiger-colored "Whisper bag" to a simple bright red clutch.


The one I ordered cost $122 with a $40 shipping fee, so by my definition it was not exactly cheap. But comparable bags sold at a local Louis Vuitton retail store were $1,000 or more.


I entered my Washington D.C. address and credit card information, and instantly got an email from my credit card company warning of possible fraud on my account. Soon, I received a second email, this one a receipt with a Worldwide Express Mail Service (EMS) tracking number so I could follow my package.


The bag left Guangzhou, China on September 14 and arrived on my desk by the 20th. It was wrapped in a yellow sheath with the Louis Vuitton logo and smelled strongly of leather.


But in another sign something was not quite right, the English instructions that came with it read: "Louis Vuitton has created for you prestigious glazed leather" - the sentence ending abruptly without the word "bag."


I took the bag to a Louis Vuitton store in Chevy Chase, Maryland to see how it compared with the real article. The store clerk, a tall man in a stylish suit, was restrained. "We only talk about our own products," he said icily, adding "we don't have any bags like that."


That Louis Vuitton doesn't want its store personnel to talk about how easily their products can be copied is perhaps understandable. If word got around fake bags were on the street, then people might begin to wonder if their own bags were real. Part of the brand's cachet is its exclusivity, which easily available counterfeits devalue.

Tell a Friend
•
Site Map
•
Print this Page
•
Email Us
•
Top