Technology News
Faked in China: Inside the Pirates' Web - Part 2

Doug Palmer & Melanie Lee - Reuters
go to original
October 26, 2010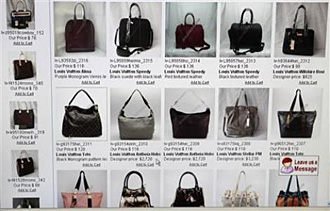 A China-based website displays fake LVMH handbags as seen on a Reuters computer screen in Washington, September 10, 2010. (Reuters/Hyungwon Kang)
Last year, U.S. customs and other law enforcement agents made nearly 15,000 seizures of counterfeit goods, 80 percent of which came from China. Handbags were third on the list, behind consumer electronics and footwear - the top item for four consecutive years.


"They aren't just selling counterfeit clothing or electronics," U.S. Attorney General Eric Holder told an intellectual property conference in Hong Kong last week.


"They're selling defective and dangerous imitations of critical components, like brake pads, or everyday consumer goods, like toothpaste. They're conducting corporate espionage. They're pirating music, movies, games, software and other copyrighted works - both on our cities' streets and online. And the consequences are devastating."


When it comes to making counterfeit goods and pirating brands, China is the counterfeit "workshop of the world." Along with a relentlessly widening U.S. trade deficit, which Washington blames on China's undervalued currency, rampant piracy is stoking economic tensions between two of the world's biggest economies.


SHADY FACTORIES


The grubby town of Shiling, an hour's drive from the southern port of Guangzhou, has the biggest leatherworking industry in China. In the 1980s, multinationals from various industries began outsourcing production to factories in the coastal provinces. In this part of Guangdong province, it was leather.


By the late 1990s, low-budget workshops in inconspicuous neighborhoods near the outsourcing factories had sprung up making fake versions of the products. Today, much of Shiling's leather goods are destined for the counterfeit trade.


At one such workshop near Shiling Secondary School, women and their young daughters could be seen cutting and sewing leather by the windows. Lanky men loitered on the ground floor by a "help wanted" poster seeking leather workers, serving as lookouts.


These places are occasionally targeted for police raids.


Zhou She, a private investigator whose job is to sniff out illicit hives of counterfeiting operations, told us about this cluster of workshops, but we must act discreetly, he says.


Walking gingerly around the three-storey shop-house factories and watching men and women pound metal hardware into leather in the back alleys, it feels like we are in a pirates' lair.


Police officials say organized crime gangs, sometimes called triads in this part of China, are deeply involved, given their extensive underground networks. "Of course they are involved. It is very low risk for them," Zhou said.


He works the detective gumshoe routine, spending hours trailing trucks carrying suspected cargo in and out of Shiling, conducting camera surveillance and interviews.


A former Peoples' Liberation Army intelligence officer, Zhou, who has been in the industry for 12 years, has the tanned, leathery skin and sharp crew cut of a military man. His austere presence is betrayed only by a brown, expensive-looking leather purse, which he showed off proudly - a gift from an Italian client after he found a counterfeit workshop for them.


Luxury brands hire him to gather information on the location of warehouses and factories, who then use that evidence to persuade Chinese police to conduct a raid.


The workshops take real luxury handbags and reverse engineer them. Everything from the metal fittings to the monogrammed leather of a Louis Vuitton bag is produced in China.


After it is put together at one of the workshops in Shiling, the bag usually winds up in nearby Baiyun, by the old airport in northern Guangzhou.


SPILLING OUT OF STORES


The Guangzhou Baiyun World Leather market is the epicenter of the world's counterfeit trade when it comes to wholesaling fake leather goods and apparel, experts say.

Tell a Friend
•
Site Map
•
Print this Page
•
Email Us
•
Top