Technology News
Faked in China: Inside the Pirates' Web - Part 3

Doug Palmer & Melanie Lee - Reuters
go to original
October 26, 2010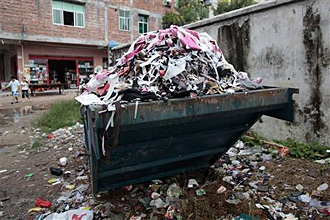 Offcuts of leather dumped in a refuse skip are seen close to a workshop where fake foreign brand handbags are made in the southern Chinese city of Guangzhou, September 30, 2010. (Reuters/Tyrone Siu)
Counterfeit Louis Vuitton, Gucci, Prada, and Hermes handbags literally spill out of shops that occupy commercial space the size of five football fields. Smaller stores provide auxiliary products, such as counterfeit paper bags, receipts and catalogues for wholesalers.


Gina, who declined to give her surname, is one such wholesaler from Colonia, Uruguay. Tugging a large, gray Louis Vuitton suitcase through the narrow paths of the leather market with her 66-year-old mother in tow, she is looking for a shop that can make Louis Vuitton satchels out of "pleather" (synthetic leather).


"Don't worry, she can manage, we are very used to this," Gina said as her arthritic mother slowly shuffles forward, carrying bags laden with fake scarves and leather goods, before they stop at a bag shop.


"I don't need real leather, just pleather. No need to be 5-As, just double A enough," Gina told the shopkeeper in heavily accented English.


She has traveled halfway around the world to Baiyun to make a personal connection in the world's largest market for counterfeit leather goods. "I used to buy online from China, but after one bad experience, I said never again!" She said she wound up taking delivery of 800 bags in red instead of the black she ordered.


Gina was looking for a factory that can make 500 satchels, which she planned to ship to Argentina before bringing them into Uruguay where she has a beachfront store. It's less suspicious to bring it over the border than have it come directly from China. Clutching sheets of paper with information about the bags she wants made, Gina, with her streaked blond hair, tanned skin and branded accessories, looked more like a Hollywood fashonista than somebody's idea of a pirate. "I've been in this business for eight years now," she said. "It's a good business."


Indeed, while criminal syndicates are getting increasingly involved in the counterfeit trade, both in the United States and China, authorities say, it is ordinary folks like Gina and the shopkeepers she deals with who are the face of the counterfeit business in China.


HALF-HEARTED ENFORCEMENT


Guangzhou authorities occasionally raid the Baiyun market, including the day Reuters journalists visited there. Shops, tipped to the impending raid, dutifully closed their doors, though customers only had to knock to be let in surreptitiously.


"They are raiding now. I don't know when it will end. It's because of the Asian Games," said one shopkeeper. Guangzhou is hosting the games in November.


After a few minutes, the raid apparently ends with no arrests made. Shop owners slide off their stools, fling open their glass doors and stand outside beaming and beckoning at customers again. They don't cater to tourists, but sell in bulk to wholesalers such as Gina. Each shop claimed to have a factory backing it.


In the basement of the stores are the shippers, who expertly pack and label the items so they sail through customs.


"If you want to send to France, it is a bit hard, because they check thoroughly. But sending via UPS has an 80 percent success rate," said one such shipper named Chen, who like the others interviewed in China for this story, declined to give his full name to avoid getting in trouble.


They will also route shipments through ports in the Middle East or Africa to avoid detection by customs in the European Union and the United States, he said.


Sitting on a small stool in a Baiyun shop, Gary, a 30-year-old Congolese, represents another branch of the industry - the intermediary. Speaking Mandarin to a shopkeeper and switching to French for his three African clients, he was trying to put together a deal on counterfeit Italian Miu Miu bags.


He came to China two years ago to study, but has made helping European and African clients buy fakes a thriving side business.


"I buy a lot and pack them in boxes of 10. Then I ship them to England and then I drive (them) into France and they get picked up," Gary whispered in Mandarin. "It's a sensitive business," he said with his baseball cap shoved low on his head.


Similarly, Nana, 30, a native of Moscow, has lived in Guangzhou for four years. She was buying fake Tommy Hilfinger and Gucci clothes in Baiyung, which she planned to supply to 20 websites in Russia.

Tell a Friend
•
Site Map
•
Print this Page
•
Email Us
•
Top