Vallarta Living
BECAS Breakfast at Coco's Kitchen a Roaring Success

Polly G. Vicars - PVNN
November 19, 2010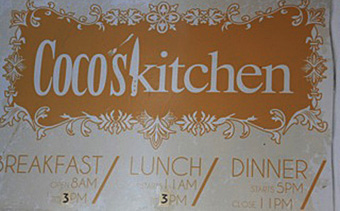 Coco's Kitchen hosted the first Becas Breakfast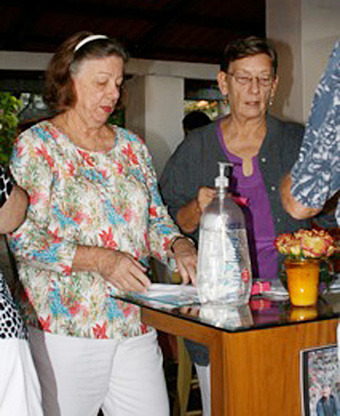 Judy de Galeana & Linda Wirth taking tickets at the door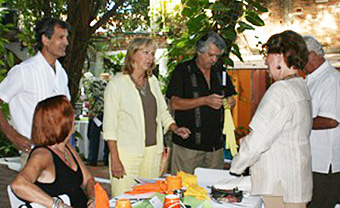 Len Ambrose selling raffle tickets to all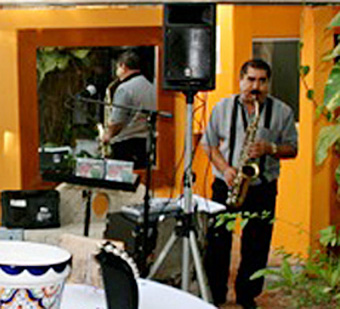 Irving Flores and his mellow sax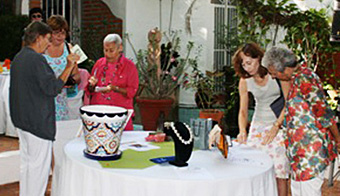 We checked out the Silent Auction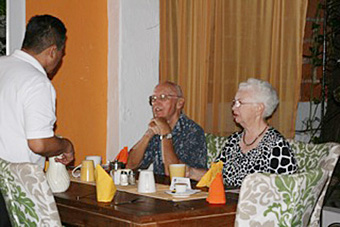 Becas Secretary Sylvia Sorensen and husband Vern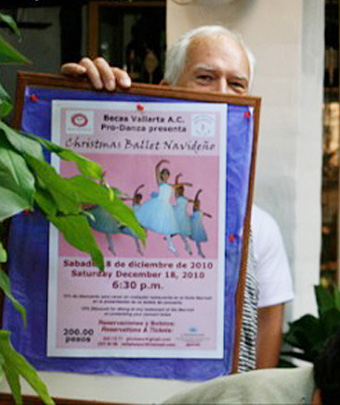 Rod Scriban touting the Christmas Ballet (photos by Irene Johnson)
Becas supporters arrived at Coco's Kitchen ready for a marvelous breakfast, ready to greet old friends and meet some new and ready to support the 376 young Vallartenses who are reaching their educational goals through their Becas Vallarta scholarships. They were not disappointed on any level.


Linda Wirth and Judy de Galeana were at the door to greet, take tickets and answer a myriad of questions. For the first time, Becas Vallarta awarded door prizes donated Gold's Gym, El Arrayán, El Coyul Licorería and Elizabeth Johnson to 10 attendees... just for being there.


All 150 tickets were sold in advance and many had to be told they would have to wait until the December 15th breakfast at La Palapa to join in the fun of Becas Breakfasts. Several friends from far places attended, including Jeanne and Jeff Allen from Alameda, CA; Mary Ruth and Jack Amburgey from Hazard, KY; Pat and Richard Bendix's son and friend from CA (I think); Cousin Billy, Linda Ellerbee's cousin from TX; Rachel Brooks from CT, and newlyweds Melinda and Duncan from IL.


Others who live here part of the year returned in time to attend: Kaye and Bill Thurman, Charlene Bailey Crowe, Miki Sallomi, Nellie and Len Ambrose, Irma Willis, Hank and Vickey Lindsey, Jo Ann and Ralph Harrison, Faye Cardenas and Keith and many others whose names I will be chastised for missing.


We also had local business people Hank and Conrad of Lunch with H & C at Café Bohemia, Lucy of Lucy's CuCu Cabaña, Lola of the Red Cabbage and Gloria of Quatro Vientos as well are our outstanding doctor and his wife, Jaime and Martha Castañeda.


We had prodigious attendance from Becas members: Marco and Dru Anderegg, Linda Azcarate, Pat Bendix, Suzie Erikson, Alfredo & Mary Franco, Judy de Galeana, Carl and Irene Johnson, Elinor Prawer, Teresa Ryssemus, Rod & Cecile Scriban, Vern & Sylvia Sorensen, Jose (Cheo) Valentin Rangel, Sergio Valle Pardo, Teresa and Henk Ryssemus, Aurora de la Torre, Linda and Terry Wirth, Husband and me.


Coco and her efficient and friendly staff were more than ready for us. They served everyone a delectable breakfast of their choice of Coffee, Tea or Juice, Choice of Home Made French Toast served with Fresh Fruit or American Omelet with Ham, Cheese, Bell Peppers & Onions or Huevos Rancheros-Two Fried Eggs over Two Fried Tortillas covered with Red Salsa Ranchera all served with Country Potatoes, Mixed Green Salad or Refried Beans and a choice of Homemade Biscuit, Muffin Croissant or Toast. Everything came hot and delicious!


During the breakfast Irving Flores, friend of Becas member Aurora de la Torre, played his mellow saxophone as well as sang beautiful songs to entertain us all. Irving is a delight to know and to hear. He has donated his talent and his time for the second time for Becas. He also entertained the 300 attendees at the Culinary Jam Session at the Marriott as a donation to Becas Vallarta.


He joins a whole host of local people of talent who believe, as we do, that we can change lives of Vallarta's youth through education. Irving is available for private parties on his sax, on the piano, with a jazz trio or for Cuban music. Call him for your next event at (322) 205-5358. A huge "Gracias" to Señor Flores.


We had a small Silent Auction of silver jewelry donated by Cassandra Shaw, a Talavera Plant Maceta donated by Judy Galeana, an oil painting donated by Elizabeth Johnson, Silver jewelry donated by Buri Gray and a unique hand-painted lady's purse donated by Lalo Morales. Those who bid and won got some fantastic bargains.


Of course, we had the popular raffle. All during breakfast Compadre Len Ambrose with his crew of Richard Bendix, Cheo Rangle, Carl Johnson and Sergio Valle sold raffle tickets to everyone! I mean everyone as those guys don't miss a trick. Gifts from Archi's Wok, Body Design Laser Spa, Casa Isabel, Casa Magna Marriott Mikado, Cassandra Shaw, Coco's Kitchen, Cristalex, Daiquiri Dick's, Hank & Conrad, Impression, June Rosen Gallery, La Bohemia, La Palapa, Liverpool, Los Veranos Canopy Tour, Lucy's Cucu Cabaña, Teatro Vallarta, Vallarta Botanical Gardens and Xocodiva were won amid squeal of delight and moans of "why not call my number?" A huge thank you to all our donors who loyally support Becas Vallarta month after month, year after year.


Becas members were busy selling tickets for upcoming events: December 2nd, A Holiday Happening at Avalon, 6-9 pm at the Sky Bar at Condominio Avalon, $600 pesos tickets that must be purchased in advance; December 15th, Becas Breakfast at La Palapa Restaurant 9:30 a.m, $150 peso tickets that must be purchased in advance; December 18th, Becas Christmas Ballet Under the Stars at the Casa Magna Marriott, 6:30 pm, $200 pesos tickets if purchased in advance or $250 pesos at the door. All of these tickets can be bought by calling me at (322) 223-1371 or 044-322-182-0215 or emailing me at phvicars(at)gmail.com. Don't you be the one who tries to buy tickets after they are all sold out!


Becas Vallarta thanks Coco and her staff as well as all who contributed to the success of our first Becas Breakfast of the Season. It was fun to see all of you and hope we will see you at our upcoming events. So call me! I have tickets!
---

Polly G. Vicars and her husband of almost 60 years, Hubert (a.k.a. "Husband") retired to Puerto Vallarta in 1988 and soon became active members of several charitable organizations. Polly is the author of "Tales of Retirement in Paradise: Life in Puerto Vallarta, Mexico" [a sell-out!] and "More Tales of Retirement in Puerto Vallarta and Around the World." Proceeds from the sale of her books go to the America-Mexico Foundation, a scholarship foundation that is their passion.

Click HERE for more articles by Polly Vicars, or click HERE to learn more about Becas Vallarta and the America-Mexico Foundation.
Tell a Friend
•
Site Map
•
Print this Page
•
Email Us
•
Top