A crowd-pleasing concert by young Jalisco tenor Jorge Jiménez at Teatro Vallarta kicked off the Charity, Culture and Champagne fundraising weekend from March 25-27, 2011 to benefit Puerto Vallarta non-profits Asilo San Juan Diego and the SPCA de PV.
Jorge's exceptional talent as a tenor has been compared to several legendary performers, and his extraordinary and magical voice was perfectly showcased in Running With a Dream, which was not only the name of his debut concert, but also the theme for the weekend's fundraising events.
Friday night's performance began with In the Beginning: Let There Be Light by Mike Oldfield. The backdrop showed stage-sized pictures of the dawning of a new day.
Oceano followed with dancers unfurling long wide ribbons of cloth in wave-like motions of the sea. The theme was white and permeated the cloths and costumes. Women came on stage hoisting billowy white umbrellas with fluttering streamers or bedecked with butterfly wings.
Jorge Jiménez appeared dressed in all black but lightly accented with a maroon-colored crushed soft velvet jacket. A pair danced into view in a sensuous tango, with her dress and flood lights adding bright red color to the black figures of Jorge, dancers and a pianist.
Granada by Agustin Lara has rarely sounded better than as performed by Jorge. Lovely lady dancers swirled their multicolored skirts. The crowd roared more than any time previously. This was followed by O Sole Mio, the 1898 Neapolitan song, which sounded as one would hear in the fine Italian halls where he has performed.
Morricone's Nella Fantasia ("In My Fantasy") bounced with delight. These songs crescendoed into Puccini's Nessun Dorma ("None Shall Sleep") from Turandot, one of the best-known and beautiful tenor arias in all opera and difficult to conquer at times, and in the process became a show-stopper. It seemed the audience held a collective breath while absorbing each soaring note, then burst into thunderous applause and a standing ovation.
Executive Producer Philip Stewart graciously spoke of the burgeoning career of Jorge, who has risen via an illustrious trail of operas throughout Europe to the last twelve months of being promoted in the United States to thunderous crowds. The backdrop showed pictures tracing his path from the cantinas of Guadalajara through the European concerts.
Jorge Jiménez is indeed "Running With a Dream." Mr. Stewart declared this night to be Jorge's Puerto Vallarta premier concert. At times in the evening, he discussed the marvelous credentials of soprano Anna Maria Kaufmann, who flew in from her home in Germany for the concert this night and the following show Saturday night at Hacienda Palo Maria.
Anna Maria has become a huge fan of Jorge and jumped at the opportunity to sing with him, making the very long journey earlier in the week. He also brought on stage Yvonne Kalman, a Puerto Vallarta cultural benefactor and at whose Casa Yvonneka was the weekend's finale, a Sunday Brunch with an excellent view of Puerto Vallarta and entertainment by the Peregrino Quartet. Specialties included international cuisine accompanied by champagne and Patron Tequila. Her father was famed German opera composer Emmerich Kalman.
Act Two of Running With a Dream brought out the world-renowned soprano Anna Maria Kaufmann. In 1990, she sprung into German fame in Andrew Lloyd Weber's Phantom of the Opera, whose title song she opened with surrounded by black shrouded figures. Her performances have ranged from West Side Story and Cabaret to La Traviata and Tosca. She also sang the composer's Music of the Night and Think of Me. In Yvonne's honor, she performed two of Yvonne's father Emmerich's arias.
Guitarist Mark Odom accompanied Jorge on Miss Sarajevo. Anna Maria returned and she dueted with Jorge on Time to Say Goodbye. Encores brought them back for This is the Moment from the musical Jekyll and Hyde and a soccer theme, Running With a Dream.
Following the concert was a cocktail reception with open bar, canapes and guest artists at the newly remodeled El Dorado Restaurant, Bar & Beach Club on Playa Los Muertos in the Southside area of Puerto Vallarta.
Coupled with the ongoing Fandango and the recent Frida production, Puerto Vallarta now has world-class theater to offer its residents and visitors in a comfortable large auditorium.
Funds raised from this event will benefit the SPCA de PV and Asilo San Juan Diego. The SPCA is a private non-profit organization dedicated to promote sterilization, adoption and pet care with the goal of eliminating the euthanasia of healthy and adoptable animals. Asilo San Juan Diego's Mission is to build a comfortable quality retirement home for the needy elderly of Puerto Vallarta.
---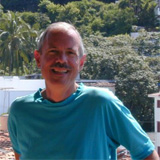 After 20 years in the San Francisco restaurant business, Gary R. Beck turned his attentions to cooking, dining out, creating recipes and exploring Puerto Vallarta's rich array of eateries. Famous for his restaurant guide, available online at CafePress.com or Lulu.com, Gary also writes restaurant reviews for Puerto Vallarta newspapers, Bay Area magazines, and now, a feature column for BanderasNews.com. Contact Gary at garyrbeck1(at)yahoo.com.
Click HERE for more articles by Gary R. Beck.