El Tuito, Jalisco, Mexico - With the most recent reservation of Lot 14, Tierra Alta has now sold 25% of its inventory. "We are glad to see that the concept is being received so well," exclaimed David and Xochitl, the developers of Tierra Alta.
The developer's brainchild seems to have hit a nerve with buyers who are interested in having a more quiet and quality lifestyle and yet not suffering inconveniences. With their own private water source, mainstream electricity, and soon-to-come high-speed internet, cabin owners are able to enjoy the country life with all the comforts of the 21st century.
All this and only a short picturesque 45-minute drive to Puerto Vallarta in one direction, or the unspoiled beaches of Cabo Corrientes in another. Cabin styles range from 80 m2 one-floor one-bedroom designs all the way up to 163 m2 three bedroom floor plans. Custom designs can also be accommodated.
New Adobe Designs
Based on requests of specific clients, the developer has decided to include Adobe as one of the approved building materials and styles for Tierra Alta cabins. "Many of our interested clients had asked if they could have something even more organically Mexican. We discussed the idea of adobe and adobe-faced block, and our clients were thrilled with the style," says David Kimball.
Adobe is considered one of the earliest building materials in the world and has a great deal of history in the Mexican culture. You will still find original adobe homes and buildings in rural parts of Mexico.
Clients can select from full traditional adobe homes, with overly thick walls, providing a wonderful natural insulation. Or, for those who want a more traditionally-structured home with brick, adobe can simply be applied as a surface texture to give the appearance of the house being made entirely of adobe. For the 80 m2 Agave model cabin, this adds about $10,000 USD to the price of the cabin if it is a brick-based and adobe-faced version, or about $20,000 USD if it is a full adobe design and construction. Prices will vary depending on the size of the cabin selected.
Tierra Alta is proud to offer a high standard of construction and amenities for rural living close to Puerto Vallarta and pristine beaches. The town of El Tuito offers a friendly community, some great restaurants and an abundance of natural resources to enjoy.
If you would like to preview the existing model cabin, please contact me at
franklin(at)tropicasa.com
for a private showing.
---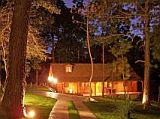 Set on 7 hectares of rolling hillsides, the Tierra Alta eco cabin development will comprise 21 country cabins built for weekend enjoyment or full-time living. With cabin/lot combined pricing starting at under $80,000 USD, inventory is selling fast. If you would like to see what the Tierra Alta lifestyle offers you, please call
Tropicasa Realty's
Wayne Franklin at (322) 222-6505. To enjoy an out-of-the-ordinary Mexico vacation and breathe the fresh mountain air of El Tuito, call David and Xochitl at (322) 222-9180 for rental information.
To learn more about Tierra Alta
Click HERE,
or visit
TierraAltaTuito.com.