Puerto Vallarta, Mexico - One of the most celebrated holidays in Mexico continues to be El Día de Los Muertos. According to ancient history, when a person dies, their spirit rests until El Día de Los Muertos, when they return to their former homes to visit their families. The holiday focuses on gatherings of family and friends to pray for and remember those who have died.
Despite the dreary name, El Día de Los Muertos, consists of grave side celebrations with vibrant bouquets of marigolds and heaping plates of favorite foods honoring lost loved ones in the ancient Mexican tradition.
In Puerto Vallarta, Día de Los Muertos festivities begin on the night of October 29th and continue through November 2nd. These are the days when art, religion, life, death, sadness and humor all come together in bright colors, tears and music.
No Way José! kicks off their 7th Season with a Day of the Dead Hollywood Game Night to start the 5-day festival. Continuing the game night tradition started with the No Way José! Newlywed Game, then Family Feud, you can now join the fun on Friday, October 30, 2015 with the Tu Casa en Vallarta version of Hollywood Game Night.
Starting at 8:00 pm, two 4-person teams will compete in 2 rounds each of 5 games. Some of La Zona Romantica's best-loved local celebrities will be on hand to compete for the title of "Best Day of the Dead Gamer!"
Join one of La Zona Romantica's favorite Mexican eateries as they celebrate El Día de Los Muertos and support the Culinary Program for aspiring young chefs at El Instituto Tecnologico Superior de Puerto Vallarta (TEC). A guest chef from TEC will also provide a special Day of the Dead menu featuring traditional dishes served by some of the culinary students themselves.
A portion of the Day of the Dead Game Night proceeds will go to purchase much-needed projectors for the culinary classes so they can receive learning in the best way possible. 100% of raffle proceeds and 100% of traditional Day of the Dead bread and pastries will also go toward the purchase of the projectors.
Come in your best Catrina makeup! All costumes encouraged for a night of games, costume contests, raffle prizes, and fun for all.
As always, No Way José! will display a traditional Day of the Dead altar where photo memories, notes, favorite food and drink will be presented in memory of the loved ones no longer with us. Please do not hesitate to bring your own memento to display for a loved one. At No Way José! we know what the tradition of El Día de Los Muertos represents: Love Never Dies.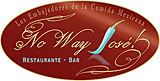 No Way José! is located on the south side of downtown at 5 de Febrero 260, just over the Vallarta street bridge on your left heading south from the Malecón. Open daily from 3 pm to 11:00 pm, closed Mondays until December. For more information, visit NoWayJoseMx.com, or join us on Facebook for real-time updates and special offers.

Click HERE to learn more about No Way José!