Puerto Vallarta, Mexico - The February 9th Casa Connor - Pasitos de Luz open house was an overwhelming success! Over 200 people visited the children, staff and volunteers at our new location. We are honored that so many people took the time and effort to join us!
Upon its completion, Casa Connor was donated to Pasitos de Luz through the generosity, love and belief of many, many people. The building sits on 2.5 acres (1 hectare) of land and is 22,000 square feet (approx 2050 square meters). Casa Connor took 5 years to build. It uses solar panels, has its own well for water and its own septic field. The cost to build Casa Connor was approximately $2 million Canadian dollars, which included putting in power lines, power poles, transformers, driveways and grounds, and the building with kitchen equipment such as walk in freezers, laundry room and the solar panels.
Pasitos de Luz children started attending the facility on January 9, 2017. The children meet at the Pitillal location and as soon as they hear the word "bus" they can't wait to get out to their new building! The center has a gymnasium, physio-therapy room, hot tub therapy area, classrooms, rooms for naps (and eventually respite), media room, laundry room, kitchen, dining room (children eat breakfast and lunch there), outdoor play area, offices and more.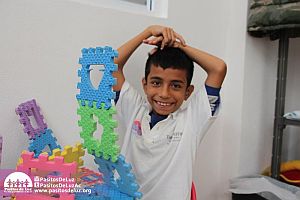 One therapy room simulates a hair salon where children can develop fine motor skills through play such as combing hair, misting hair, and using mirrors for practicing speech. The media room is particularly important for children with limited mobility who will have increased opportunities for light, sound and mental stimulation. Younger children can engage more fully in classroom activities such as puzzles, fine motor skill games, coloring, painting, singing and looking at books. Older children engage in more educational and academic activities. Tailored nutrition and a variety of therapy occurs daily and the new facilities will allow Pasitos to expand their equipment and types of therapy.
The miracle of Casa Connor really is about the children. It gives them a place to grow and flourish. Previously they had no immediate access to play outdoors and equipment and activities were limited due to the available space.
It's a huge step from the very humble beginnings of Pasitos de Luz. It was 1999 when Yolanda Sanchez decided to dedicate her life project towards children with disabilities and helping their families. Yolanda says "We began with many shortcomings, because we only had 2 equipment boards to raise the children vertically, a walker and two cots, some cooking dishes and an excellent expert physiotherapist, who taught us a lot."
In 2011, the Peter and Teena Oudman family began the journey of Casa Connor. The vision focussed on building a facility that could have the space, required equipment and respite capacity for disabled children; one that would make the children feel special. Their vision was to build a castle so children with disabilities could feel magic in their lives every day. Their passion has been driven by their grandson Connor who passed away in 2011 from Hunter Syndrome at the age of 15.
Casa Connor has a capacity for approximately 200 children. Pasitos currently helps 122 families but on any given day, the number of children has been limited to about 40 children due to space restrictions. These first months will be transitional and the number of children each day will not change. However, as the families, staff, volunteers and children adapt to the new surroundings, the number of children will increase. The wait list exceeds the current number of families being helped. The need is great. And the need for funding to help these families is great.
For those who were able to attend the open house, thank you for coming. And for everyone who believes in Pasitos and helps the children and their families, thank you for caring. Casa Connor is a miracle. That miracle means Connor's life and legacy can live on through the children of Pasitos de Luz and those children can become the best they can be. But we need your help!
Three Ways You Can Help
To increase the number of children, offer more varied therapy, and to fully furnish and equip Casa Connor, we need a) volunteers, b) monthly donors and c) equipment, furniture or larger capital donations.
To increase our services and the number of children, we need volunteers. We are looking for people willing to share their time and talents year round or seasonal. If you can donate time as a volunteer, please contact Larry at laromax(at)att.net.
We will have large capital costs that will include building a therapy pool, security fence and security system. In addition, we are still furnishing the building with equipment and furniture. The most recent list of equipment and furniture needs is available HERE.
But most of all we need monthly donors for sustainable funding. With no ongoing government funding, we rely on fundraising activities and private donations. If you can afford any amount, please donate. If you can spare a dollar a day, please donate. If you can afford more, please donate.
You can donate through PayPal using the DONATE button on the left of THIS PAGE of the Pasitos website, or if you want tax deductibles in Canada or US follow the link below the DONATE button. If you have any questions or difficulty, please contact Barb at condo211(at)yahoo.ca, or Pasitos de Luz at info(at)pasitosdeluz.org.
RIVERFEST!
Our next fundraiser is coming up quickly. The 6th annual Riverfest is being held on Saturday, March 4th at El Rio BBQ Bar from 12:00 pm to 7:00 pm with an added bonus of pre and post shows on Friday March 3rd and Sunday March 5th. All proceeds go to Pasitos de Luz! Click HERE to learn more.
---

Located in El Pitillal, Pasitos de Luz is a marvelous day care facility for children with special needs. This non-profit organization provides children with various handicaps with a caring and loving environment, along with treatment for individual rehabilitation, nutritional meals, physical stimulation and therapy. For more information, Click HERE or visit PasitosDeLuz.org.