Puerto Vallarta, Mexico - There's always so much going on in Puerto Vallarta and around Banderas Bay it can be difficult to keep up with it all. Here's a look at some of this week's Puerto Vallarta news, a few community announcements and a couple of this weekend's events that you won't want to miss.
Free Puerto Vallarta Orchestra School Concert, July 17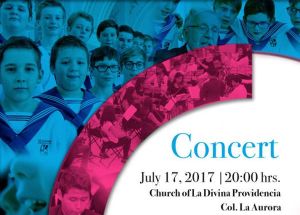 The Puerto Vallarta Orchestra School (OEPV) will perform a free concert accompanied by Austria's St. Florian Boys' Choir at the Church of La Divina Providencia in Colonia La Aurora on Monday, July 17th at 8:00 pm. This will be the Youth Orchestra's first summer concert, which has some big surprises in store for Puerto Vallarta audiences this season. Everyone is invited to attend this free concert that the children have prepared with great effort and care. The program, as always, reflects the growth of the students in the academic program. It demonstrates how they've learned to understand and interpret music, to understand the periods and trends that are the basis of all current music, and how they have grown as musicians. It also exemplifies how the OEPV stimulates students with always fun, but increasingly difficult, challenges that consolidate them as symphonic performers. Come out and support our young musicians and the Puerto Vallarta Orchestra School. Now in its sixth year, the OEPV has transformed the lives of many children and teens in the region. The aim of this cultural project is to reduce social problems, crime and addiction through music - and the results have been impressive. For more information, please call (322) 224-5671 or email
oepuertovallarta(at)gmail.com.
Third Annual Puerto Vallarta Mystery Bus Trip
Get outta-the-heat and join your Puerto Vallarta friends on Gary Green's Third Annual Mystery Bus Trip! This year's 'magical mystery tour' will take place on Sunday, September 17. For just $650 pesos (about $35 USD) you'll enjoy visiting three mystery locations on an air-conditioned private bus with adult beverages onboard, along with a great dinner and fun surprises! You can pre-pay your tickets online for a small surcharge at
Eventbrite.com,
or select the "other" option on the event page and Gary will collect your payment at a later date. The bus will leave the Farmacia Guadalajara located at Insurgentes 261 on Vallarta's south side Sunday, September 17th at 1:00 pm and return at around 8:00 pm. These "fun-tastic" trips always sell out, as space is limited to just 40 people. Last year there were 17 people on the waiting list - so don't miss out! -
Click HERE to sign-up today!
Puerto Vallarta to Host World Sailing's 2017 Conference, Nov. 4-12
Registration for World Sailing's 2017 Annual Conference, set to be held in Puerto Vallarta, Mexico, is now open. World Sailing's Annual Conference brings together international delegates every first full week of November. It is the central meeting point where the strategy of sailing is reviewed, discussed and celebrated. The Sheraton Buganvilias Resort & Convention Center will host delegates for the 2017 edition of the Annual Conference from November 4-12. Over the duration of the Annual Conference, delegates will discuss, debate and make key decisions that influence the future of the sport. For further information on the 2017 Annual Conference such as venue, travel, scheduling, visa information, registration and more, visit
sailing.org.
Weekend Events in Puerto Vallarta and Around Banderas Bay
Click on titles for more information
• Los Mangos Cine Club Presents: "La Cruz de los Años"
• Open Auditions for "Xanadu: The Musical" at Act II Stages
• Daiquiri Dick's Summer Sizzle 'Flavors from the Grill'
• 'Beers, Boys & Burgers' Every Sunday at Hotel Mercurio