Puerto Vallarta, Mexico - At The Palm Cabaret & Bar, we love entertainment – and it shows! Join us this week as we say goodbye to some amazing acts, and welcome new ones to our family. The variety of entertainment at The Palm is incredible, and there is something for everyone. Come and see why it is Puerto Vallarta's favorite cabaret!
The fun starts on Monday, February 18 at 4:00 pm as we play Lotería (Mexican Bingo). Lotería originated in Spain and was introduced to Mexico in 1887. The initial intent for the game was to help soldiers pass the time by playing the game. Any royalties from the game were given to the Save The Children Foundation. Here in Vallarta, event proceeds will go to the spay and neuter clinics as well to conduct puppet shows to educate young children on how to care for their pets.
Kevin Levesque, a.k.a. Miss Conception,
has once again created a show that has people lining up to experience. The presentation starts off with a visit to the land of "The Golden Girls" and continues through a series of television sitcoms that we all know and love. Kevin knows how to connect with his audience, and it is certainly appreciated. The jokes are fast, the connection is personal, and the music is familiar. For years, this "live singing" entertainer has produced sold out shows and this one is no exception. The shows are every Mondays at 7:00 pm and 9:30 pm and Thursdays at 9:30 pm, and it is wise to book early to get good seats. Come see why so many line-up to experience. This is a must-see show.
Kim Kuzma's "Dancing Queen" returns to Tuesday nights after special performances of "The Best of Acustico". Kim and her band perform hits from both Abba and Cher, in what is called "one of her best shows yet" by many fans. Its so much fun, you will probably want to come a second time. Kim's band is made up of three amazing musicians. Eduardo Leon on guitar, Nate Buccieri on piano, and Alexis Mena Torres on drums, all of which create a musical companionship only few can ever achieve. The band has come up with some amazing re-arrangements of a few songs, one of which is so cleverly disguised, and you won't notice it right away. There are so many classic songs to choose from, however, Kim has selected a mix that is flawless and seamless. Kim Kuzma performs every Tuesday nights at 7:00 pm and 9:30 pm.
Nate Buccieri
returns after a few weeks performing abroad. His ever-popular "I Heart 80's" and "Artist Tribute Series" also joins him. Both shows are somewhat interactive, as the audience participation is smart and subtle. You know realize that you are part of the show. Nate is friendly, funny and an amazing piano player. It's as if Nate was born to play the piano. The titles of the shows speak for themselves, and both are a musical walk down memory lane. Nate is very busy, as he also accompanies many acts as their piano player.
Check the online schedule
for Nate's performance dates and times.
This week, Luna Rumba rises again! New rhythms, new songs, and new energy! The original Luna Rumba had unprecedented success delivering Gypsy-Inspired Rumba Fusion to the Banderas Bay music scene. The group is re-inventing itself and will be performing at The Palm this upcoming season, with Eduardo Leon (Lalo) taking the lead position as singer and guitarist. Lalo, Geo, Luis, and of course the beautiful and talented Lilly are" all in" and the music will be stellar! Get ready for high energy, rock your socks off, blistering lead guitar and fiery violin all pumped up with the explosive percussion talents of both Luis and Lilly together! Here is the line-up: Lalo: Nylon Guitar and Vocals Geo: Violin, Guitars, and Vocals Luis: Drums, Percussion, and Vocals Lilly: Percussion Ever Bass Come and enjoy some of the best Rumba Flamenco Fusion ever performed in the Bay - once again! Click HERE for more info.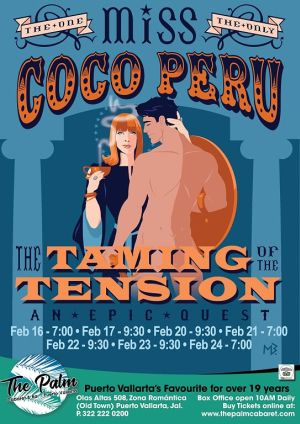 The Palm Cabaret has been so fortunate to have such amazing talent, that we are sometimes sad to see some of the acts leave. After an incredible 3 week run,
Varla Jean Merman,
returns to her New Orleans town, paving the way to a new iconic star, Miss Coco Peru. The Palm is very excited for the return of this comedic storyteller and her show, "The Taming of The Tension".
Miss Coco Peru (aka Clinton Leupp) has been a household name in the LGBT community for over 25 years. She's toured around the world, has over nine million views on YouTube, and has been in multiple cherished films, garnering multiple awards and nominations for her work.
Considered "the hostess with that something... extra," Coco has received worldwide acclaim for her award-winning solo shows that she's starred in, written, produced, and directed, as well as her remarkable series of tributes to great performers, Conversations with Coco, in which she conducted live career-retrospective interviews with such luminaries as Lily Tomlin, Jane Fonda, Liza Minnelli, and the late Bea Arthur.
Tickets for Miss Coco Peru are selling fast, with an impressive set of pre-sales. You don't want to miss this show as it may be the last time you get the chance to see Miss Coco Peru in "The Taming of The Tension"
Bohemia Viva returns to the Palm Cabaret & Bar, and the audiences have been well rewarded. Sold out performances over the Xmas holidays, the harmonizing duo knows how to put on a show. Coming up this week, Luis Lujan gives an intimate solo performance of song and music titled "Music on the Walls". The Argentinian singer, songwriter, and guitarist will warm your hearts, and calm your soul. There are only a few performances of this show, which are listed on The Palm's online calendar.
The men of Piel Canela continue to "wow" their audience with masterful rhythm guitar, mind-blowing percussion, and beautiful melodies. From Ricky Martin to Gypsy Kings, the choice of music is carefully chosen to thrill any music aficionados. Often, guests are asked to join them on stage, giving the spectators more for their buck, and a taste of other talented musicians in the area. Fernando Gonzalez fronts the band of five members which include, Pepe Galvan, Sam Renteria, Gary Flores, and Alberto Ramirez "Mimi" all of which are masters of their musical instruments. The band is proud to be at The Palm, and audiences reap the rewards of a great example of teamwork. See them every Sunday at 7:00 pm.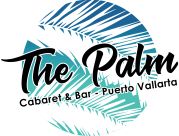 Open 7 nights a week, The Palm Cabaret and Bar features two shows per night, one at 7:00 pm and the other at 9:30 pm. They sometimes offer afternoon matinees as well. For more information and the 2018-2019 season's complete line-up, visit ThePalmCabaret.com.
The Palm Cabaret and Bar is located at 508 Olas Altas in the heart of the Puerto Vallarta Romantic Zone. Tickets to all shows can be purchased at the venue's box office, which opens daily at 10 am, or online at ThePalmCabaret.com.
For more information,
click HERE
, call (322) 222-0200, or follow
The Palm Cabaret and Bar PVR on Facebook.