Tennis in Puerto Vallarta
Canto Del Sol Tennis Club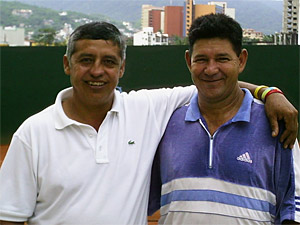 Tennis pros Polo Martinez and Leonardo "Chino" Lopez.


If tennis is your life, Canto Del Sol is the place to be in Puerto Vallarta. Only 5 minutes from the "Malecon" and 10 minutes from the International Airport, Canto del Sol Plaza Vallarta offers superb tennis installations. One can always find someone to talk tennis with or, if you are ready for some action, you can find a tennis partner or one of the tennis pros that are always on hand and ready to play.


The tennis installations include: 4 well-maintained outdoor clay courts and 4 covered laykol courts, which are great for playing during the rainy season. Hourly court rental prices are reasonable and the membership prices are exceptional.

Courts:
4 clay courts, 4 covered hard courts, lighted
Hours:
7 am - 10 pm
Court Rentals:
$150 pesos per hour to public, resort guests free
Racquet Rentals:
$50 pesos
Individual Memberships:
Annual $6000 pesos
Kid's Memberships:
Annual $4000 pesos
Family Memberships:
Annual $15,000 pesos
6 Month Memberships:
$3000 pesos per person
Tennis Professional:
5 - Martin Parra (Director), Polo Torres, Polo Martinez, Leonardo (Chino) Lopez, Jesus Martinez
Tennis Lessons:
$350 pesos
Training with Pro:
$250 pesos
Tournaments:
Professional, International, National, Local
Clinics:
Inquire
Locker Room Facilities:
Excellent
Telephone:
226-0123 ext. 4187
---
Top Seed Cesar Ramirez Wins 5th Annual Copa Pacifico at Canto Del Sol

Bob Cohen

As a large crowd of tennis fans gathered Sunday at Canto Del Sol for the singles final, top seed and Mexico's #1 most promising professional tennis player, Cesar Ramirez, faced 2nd seed veteran Victor Romero, ranked 6th in Mexico.

---
Canto Del Sol Tennis Club to Host Two Big Tournaments

Bob Cohen

Director of Tennis Martin Parra of the Canto Del Sol Tennis Club announced two tournaments will be played at the resort consecutively beginning December 10th - December 19th.

---
Canto Del Sol Tennis Club is Host to Regional Tennis Coaches Conference, September 20th - 24th

Bob Cohen

The Canto Del Sol Resort and Tennis Club in Puerto Vallarta was selected to be the host of an international conference for coaches and trainers of tennis players and tennis clubs.

---
26th Annual Copa Canto Del Sol Tennis Tournament August 2nd - August 8th

Bob Cohen

The popular 26th Annual Copa Canto Del Sol Tennis Tournament will begin on August 2, 2010 and its conclusion will be on August 8th. Once again Canto Del Sol Tennis Director Martin Parra and his staff will host the tournament.

---
Kids Cup Tennis Tournament at Canto Del Sol May 11-15

Bob Cohen

The Jalisco Kids Cup will be held from May 11th-15th and will feature the best youngsters in the State of Jalisco competing in eight different age groups, 9-16 years old. Both boys and girls will compete in singles only.

---
ITF Wheelchair Professional Tennis Tournament Held at Canto Del Sol Tennis Club

Bob Cohen

The Canto Del Sol Tennis Club held a new professional tournament from February 4th - February 7th that was ITF (International Tennis Federation) sanctioned.

---
Navarro Wins 25th Annual Copa Canto Del Sol; Tournament a Big Success

Bob Cohen

The 25th Annual Copa Canto del Sol concluded Saturday after four days of competition, In the final match of the tournament, top seeded Lazaro Navarro, actually in a league of his own, crushed 4th seed Javier Becerra 6-0, 6-2, claiming the title and the $10,000 USD prize.

Tell a Friend
•
Site Map
•
Print this Page
•
Email Us
•
Top