Vallarta Living | Community Services
The Vallarta Make a Wish Foundation

PVNN
The joy of bringing a smile to a child's face and a twinkle to their eyes in the midst of suffering is the desire of the Make a Wish Foundation International. MAWFI is a non-profit and tax deductible foundation, whose objective is to grant wishes to children with life threatening diseases who are not expected to reach the age of 18.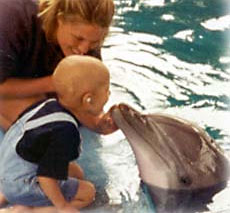 Because of the need he saw here, New Mexico's former Make a Wish Foundation Vice President, Bob Mandel formed the Puerto Vallarta Chapter in November 2000. The Chapter's first effort was a quite successful Art Exhibition/Sale of the works of 'Grande Dames of Vallarta' held at the inauguration of the Judith Ewing Morlan Contemporary Art Gallery. Board Members were on hand at the Gallery to explain MAWFI, and encourage donations for the MAWFI 'Wishing-Well.'


Puerto Vallarta residents and businesses alike have taken the Make a Wish Foundation to heart. At the beginning of this year, Kay Manternach, a Puerto Vallarta resident and an airline stewardess wanted to do something for the children of Puerto Vallarta. She spoke to Jose Luis Rodriguez, Continental Airlines Regional Manager of her 'wish' to place a "Wishing Well" at the airlines check-in counter at the Puerto Vallarta Airport. Rodriguez obtained permission from the head office of Continental Airlines, and on January 31, 2001, after contacting Bob Mandel; a MAWIF Wishing-Well was put into place.


In addition, several Corporate 'Wish Angels' such as Outback Steakhouse, Continental Airlines and Cheeseburger in Paradise are pledging to grant one wish per year to these children. Tropicasa has pledged a percentage of its sales and Joe Johnston is donating the proceeds of his golf school. As more businesses have become aware of MAWFI in Puerto Vallarta more Wish Angels are 'in the works.' Since its inception, the Puerto Vallarta Chapter has granted more than one wish a month.


For example, in May, Fernando, a 12-year-old with heart disease, wished for an opportunity to be on the "Chabelo" television show. Since Fernando had to wait until after his heart surgery on the 22nd of May and his recovery to be on the program, Chabelo granted Fernando a private audience. At this meeting, Chabelo presented Fernando with a gold medallion and two front-row tickets to his show in Puerto Vallarta, which aired prior to Fernando's surgery.


In June, Vallarta's Chapter Make a Wish presented 15 year old Jesus Contreras Figuero of San Juan de Abajo with his wish, a Mountain Bike at a party for Jesus at the McDonald's on the Malecon. Jesus has a congenital heart disease and doctors are amazed he has lived this long. According to Dr. Lupita Lewgot, medical liaison and member of the Make a Wish Foundation Board of Directors, "Jesus may not be able to ride the bicycle...but he has one!"


"In all the wishes granted to date," notes Mandel, "We have never had a greedy wish - expensive but never greedy." Mandel is looking for donations, volunteers and corporate sponsors. Make a Wish Foundation is registered in Mexico as a non-profit organization. All donations are tax deductible. The new Board of Directors includes Bob Mandel, Dr. Guadalupe Lewgot, H. Wayne Franklin, Michael Zimmerman, and Angela Corelis. For more information, to volunteer or donate, contact Bob Mandel, 221-6212, 221-6313 or email him at onsiesta(at)pvnet.com.mx.
---
Halloween Spooktacular for Make-a-Wish

Grant Hunermund

Continuing in the spirit of giving that was so evident over the summer months at the weekly Bingo for Beans and Babies games, Bite me! Beach Club will host 'Spooktacular,' a Halloween costume party in support of the Make-a-Wish Foundation of Puerto Vallarta, on October 31st.

---
A Successful Season of Make a Wish Tours

Roberta Valdez

I would like to publicly thank everyone that participated in this season's Alegre Events and Tours trips that benefited Make a Wish Mexico by helping them grant the wishes of terminally ill children, not only here in Puerto Vallarta, but throughout the Republic of Mexico.

---
Taking a Trip Can Make a Wish Come True

PVNN

To raise the funds Make-A-Wish Mexico needs to continue granting wishes to terminally ill children throughout the Republic, Alegre Events & Tours is offering trips from Puerto Vallarta to some of the most interesting destinations in Mexico.

---
Make-A-Wish Gala Dinner & Las Vegas Fantasy

PVNN

On Saturday, December 20th Oscar's Restaurant will host the first annual Make-A-Wish Gala Dinner and Las Vegas Fantasy to help them raise the funds they need to continue granting the wishes of Mexican children with life-threatening medical conditions.

---
Outback Celebrates 8 Years in Vallarta

PVNN

On November 11th, Outback is celebrating its 8th Anniversary and you are invited to the party! Starting at 7 pm you will have the chance to have a great time while helping three local charities: Make-A-Wish Mexico, Pasitos de Luz and Agape.

Tell a Friend
•
Site Map
•
Print this Page
•
Email Us
•
Top