Vallarta Living | November 2009
La Palapa to Open Becas Vallarta's Season

Polly G. Vicars - PVNN
November 02, 2009
Breakfast is not only the most important meal of the day for you and for me, but for those 300 Becas Vallarta scholarship young people who are counting on us. See you there!
Puerto Vallarta - On Wednesday, November 18, 2009 our most important meal of the day will be breakfast at Restaurant La Palapa. That will certainly be true for the 300 bright young scholarship students whose continued education depends on the success of Becas Vallarta's (America-Mexico Foundation) fund raising.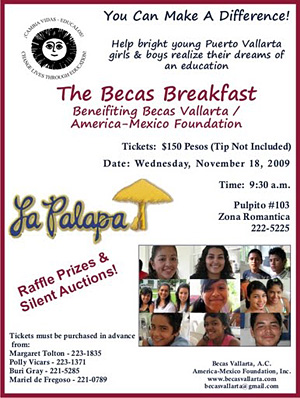 The students won't partake of the breakfast La Palapa will prepare, but they will know that owner Alberto Pérez and his talented staff are not only pulling for them, but helping to fund their scholarships.


This first of the season events will feature a sumptuous sit down breakfast of fresh fruit or juice, homemade sweet rolls, Chilaquiles with refried beans and panela cheese or Omelets with hash browns, and of course coffee. The staff at La Palapa will serve you at your table on the beach or inside the open air restaurant, both overlooking the fabulous Banderas Bay. Owner Alberto Perez, manager Abel Arreola and hostess Alba Martinez, as well as all of the genial waiters are enthusiastic about opening the Becas Vallarta season at their five star restaurant.


Becas Vallarta is also wholeheartedly supported by many of Vallarta's businesses, artisans and, of course, you wonderful patrons who buy tickets and attend all of our events. This first event of the season will feature raffle prizes everyone will covet.


So far, and it is only the first day of November, prizes have been donated by Archie's Wok, Cassandra Shaw Jewelry, Curves, Daiquiri Dick's, El Arrayán, Florart, Hacienda Jalisco, Hotel Tropicana, June Rosen, La Palapa, Linda Ellerbee, Marcelo Mico Pilates, Puerto Vallarta Botanical Gardens, River Café, Tikul, Vista Grill and Xocodiva Artisan Chocolates. Members are actively soliciting more prizes, so the list may double before the actual event. Raffle tickets, $50 pesos each or 3 for $100 pesos, will be sold only at the event.


Featured at the Silent Auction will be a clever and whimsical 39 x 32 inch oil on canvas, "Pocketbooks and Pooches" by Heidi Snowden of the Lucille Shipley Workshop. Lucille's Workshop has many fine artists participating and they support Becas yearly by advertising in our Newsletter and for the last two years by donating 10% of the proceeds from their annual show. Mark your calendars for this year's show on Saturday, February 14 and Sunday, February 15, 2010. The SPCA will be given 10% of the profits and I know you will want to help that worthy cause.


Two beautiful Molas will also be included in the Silent Action, each framed and ready for your wall. Molas are the colorful, multi-layered applique panels made exclusively by the Kuna women of Panama. They are intricately designed with abstract geometric designs as well as motifs from the natural world.


Additionally a triptych of wall panels, acrylic on wall board, depicts Vallarta's famous crowned cathedral and is sure to attract many bidders, as will two colorful and unique ladies purses, one from Vietnam and one from India. I am sure there will be other items, equally appealing, that will be there for the auction so bring your pesos and your check books!


Tickets are limited and are the same low price as last year, $150 pesos per person. They must be bought in advance from any member of Becas or from the cashier at La Palapa. They are going very fast. You may call me at my new I Phone number, 044-322-182-0215 or my home at (322) 223-1371 to get your tickets.


Looking ahead, mark your calendars for Wednesday Becas Breakfasts at The River Café, December 16, 2009, at Daiquiri Dick's on January 20, 2010 and La Leche on February 17, 2010.


Breakfast is not only the most important meal of the day for you and for me, but for those 300 Becas Vallarta scholarship young people who are counting on us. See you there!
---

Polly G. Vicars and her husband of almost 60 years, Hubert (a.k.a. "Husband") retired to Puerto Vallarta in 1988 and soon became active members of several charitable organizations. Polly is the author of "Tales of Retirement in Paradise: Life in Puerto Vallarta, Mexico" [a sell-out!] and "More Tales of Retirement in Puerto Vallarta and Around the World." Proceeds from the sale of her books go to the America-Mexico Foundation, a scholarship foundation that is their passion.

Click HERE for more articles by Polly Vicars, or click HERE to learn more about Becas Vallarta and the America-Mexico Foundation.
Tell a Friend
•
Site Map
•
Print this Page
•
Email Us
•
Top