Vallarta Living | November 2009
Early Birds Have All The Fun!

Polly G. Vicars - PVNN
November 19, 2009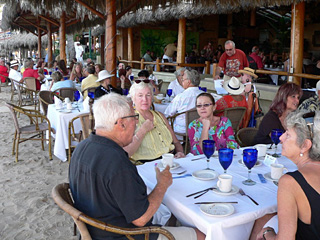 Becas Breakfasters dining on Los Muertos Beach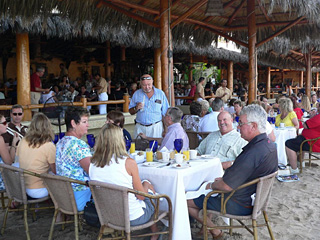 Canadian friends visiting Mariel and Carlos Fregoso enjoying the Breakfast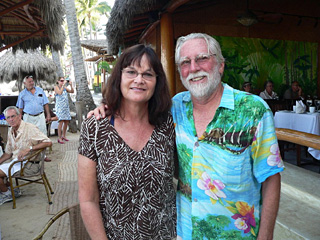 Representing Becas Charter Member Joan Blake (and Greg's Mom), Greg and Chris Armstrong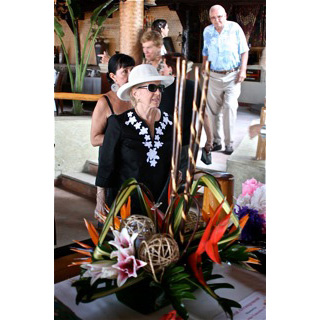 Yvonne Ward admiring the floral arrangement from Florart that now graces my dining table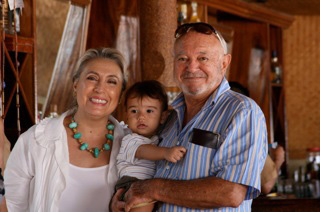 Presidents Mariel and Carlos Fregoso with their adorable grandson meeting and greeting
More than a week before the first Becas Breakfast of the season at La Palapa Restaurant on fabulous Los Muertos Beach, all 150 tickets had been sold and a long waiting list was on my computer. Half an hour before the starting time of 9:30 am at least half the guests were finding seats. Excitement was in the air as old friends greeted each other following the long hard summer and new friends exchanged email addresses and telephone numbers. It was a genuine happening!


The day was perfect for the happening; the white clad tables with blue glasses and shiny silverware sparkled on the beach and the appealing tables inside La Palapa imbued a casual sophistication. Attendees included wonderful regular supporters of Becas and many out-of-towners. It was fantastic to have Greg and Chris Armstrong, the son and daughter-in-law of one of Becas charter members, Joan Blake, in from San Diego. Joan is comfortably living in San Diego near Greg and sends her best to all of her friends in Vallarta. We miss you Joan!


The dapper waiters served homemade sweet rolls, a generous fruit plate and either Chiliquiles or Omelets with a small salad and potatoes. Of course, coffee flowed as Carl Johnson, Richard Bendix, Sergio Valle, Cheo Rangel, Vickie Jensen and Mary Ellis circulated among the guests selling raffle tickets for the thirty prizes donated by generous Vallarta businesses and individuals. Guests inspected the interesting and varied items, also donated by businesses and individuals, of the silent auction and placed their bids.


Raffle prizes were won from almost every table and smiles were great when a guest realized she or he had won a meal donated by Archie's Wok, bANANaCANtiNA, Daiquiri Dick's, El Arrayán, Hotel Tropicana, La Palapa, La Piazzetta, River Café, Tikul or Vista Grill.


How great was it to win an overnight in San Sebastian donated by Hacienda Jalisco or a year's membership to our fabulous Botanical Gardens or one of the three exotic plants generously donated by the Gardens? A month's membership to Curves along with a nifty spa bag, an autographed copy of Vallarta supporter and TV producer Linda Ellerbee's latest book Take Big Bites, earrings from advocates Cassandra Shaw and June Rosen, an apple candle box from Lucy's Cucu Cabaña, private Pilates lesson with the famed Marcelo Mica, chocolates from Xocodiva Artisan Chocolates and even a reviving facial from Salon Diva's were won by other happy guests.


The high bidders in the silent auction also left smiling with their purchases of one of the eclectic items donated. Suzie Ericson went home with the uncirculated $2.00 bill donated by Col. R.C. Burkheimer; Susan Fillipi of Modesto, CA and Puerto Vallarta loved her hand embroidered pillow donated by Gracía of Villa María; her sister Ann Phillips, also from Modesto and Puerto Vallarta, proudly left with the oil painting, "Pocketbooks and Pooches" painted and donated by Heidi Snowden.


Joe Deacon had to come back to pick up the prize winning humpback whale photo by Frank McCann when I called him with the news he was the high bidder. And I outbid several of my friends for the gorgeous floral arrangement donated by friend and supporter Maripepa Gonzalez of Florart.


Other winners were Ken Touchet who kept the bidding going on the beaded Viet Nam evening purse and the two framed Molas from the San Juan Islands, and Joy Johnson who waltzed out with the mirrored purse from India. Mil Gracias to donors, winners, attendees, La Palapa owner Alberto Perez, Manager Abel Arreola and the entire staff at La Palapa!


The results of that happening, besides the great meal and the wonderful fellowship, are that from the proceeds twenty-two junior high becados or six senior high becados or five university becados will have their scholarships paid for another year!


Can we top that? Just wait until the December 16 Becas Breakfast at The River Café! Get your tickets early as they are already selling fast, and plan to buy lots of raffle tickets and bid high on the silent auction! You can always call me at (322) 223-1371 or 044-322-182-0215 or email me at phvicars(at)gmail.com, but don't wait too long and remember that Early Birds Have All the Fun!
---

Polly G. Vicars and her husband of almost 60 years, Hubert (a.k.a. "Husband") retired to Puerto Vallarta in 1988 and soon became active members of several charitable organizations. Polly is the author of "Tales of Retirement in Paradise: Life in Puerto Vallarta, Mexico" [a sell-out!] and "More Tales of Retirement in Puerto Vallarta and Around the World." Proceeds from the sale of her books go to the America-Mexico Foundation, a scholarship foundation that is their passion.

Click HERE for more articles by Polly Vicars, or click HERE to learn more about Becas Vallarta and the America-Mexico Foundation.
Tell a Friend
•
Site Map
•
Print this Page
•
Email Us
•
Top