Vallarta Living
Abundant Pleasures Ahead in Vallarta this November

Polly G. Vicars - PVNN
October 26, 2010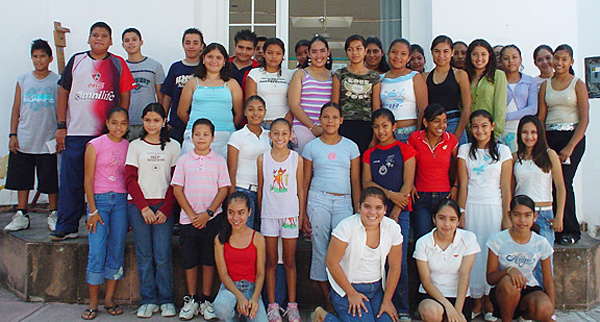 Only a few junior high scholarship students who are depending on Becas Vallarta to continue their scholarships through university.
There are so many wonderful events coming up to support the 376 young people that have Becas Vallarta scholarships this school year, as well as other deserving charities, that I have my office space divided into nooks: one for tickets to the November 5 Club Corp Becas Classic Golf Tournament; one for the November 11 Outback Steakhouse 10th Anniversary Fiesta; and one for Becas Vallarta's first monthly breakfast at Coco's Kitchen on November 17th.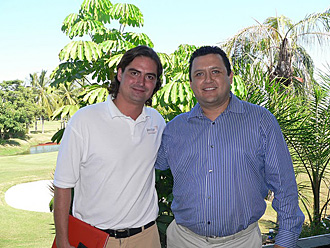 Sponsors from Vector Casa de Bolsa, Alejandro Rabago Dorbecker and from Scotiabank J. Alberto Arriaga Martinez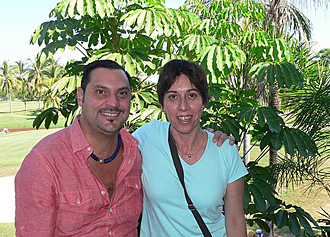 Sponsor Claudia Victoria from El Arrayán and Benito from Benitto's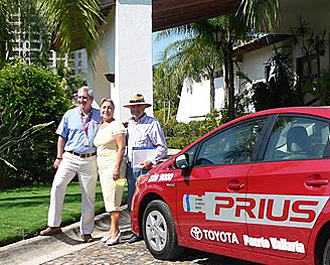 Director General Toyota PV Lic. Carlos Padilla Longoria with Presidents Mariel and Carlos Fregoso in front of the Toyota Prius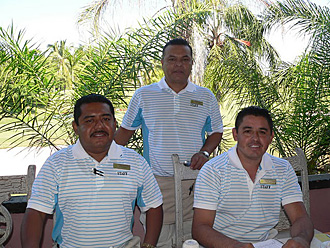 Staff of the Club de Golf Marina Vallarta, Israel Gallegos, Manuel Torres and Angel Lorenzo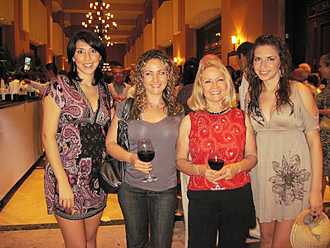 Coco and daughter Vanesa with sisters Evilina and Susana
Wow! How great it is just thinking of all the fun that is ahead for us Becas members, Becas Compadres and Becas supporters, both local and transient. And when I think of the funds that we will raise giving assurance to our becados (scholarship students) that we will be able to sponsor them for another year, my excitement is like that of a child waiting for Christmas morning!


Let's talk about the upcoming event on Friday, November 5; the first ever Club Corp Becas Golf Classic at the Marina Vallarta Club de Golf. Golfers of all handicaps are signing up there and at the Vista Club for only $95 US or $1200 Pesos. The day will begin at 11 am with pairs in carts teeing off for an 18 hole scramble.


A Toyota Rave-4 is waiting for anyone who makes a "hole in one," and many other prizes are there for lesser golf achievements. Becas members and becados will be there with measuring tapes to see who gets closest to the pin at the par 3 holes with great prizes to be awarded to the winners at the Awards Ceremony.


After everyone has golfed the 18 holes, about 4 pm there will be an awards ceremony in the Club House with great food and drink, donated by the sponsors. All of that and a chance to help Puerto Vallarta's brightest students who without the help of Becas Vallarta could not reach their educational dreams.


"Augie's Quest" of The Muscular Dystrophy Association and Club Corp's Employee Partners Care Foundation will share in the proceeds for their very important foundations. The generous sponsors and/or their representative met this morning with BECAS presidents Carlos and Mariel Fregoso to work out all the details that will make this the best Golf Classic ever.


The sponsors are Bajo Cero Hielo, Bebidas Vallarta, Benitto's, Casa Magna Marriott, Corona, El Arrayán, Kaiser Maximilian, Liverpool, Ocho Tostadas, Pepsi, Silver Purified Water, Scotiabank, Toyota Puerto Vallarta, Trio, Vector Casa de Bolsa and Vitea.


We are so grateful to them for their financial help, but it is their person support and enthusiasm that will make this event! Their attitudes epitomize the generous and loving nature of Vallartenses. Thanks to each and every sponsor.


But no matter how many sponsors we have or how many plans we make, the tournament can not be a success without you, the golfer. So sign up for this fun event before all the spaces are filled. You can get your tickets at the Marina or Vista Golf Pro Shops, from Carlos Fregoso at (322) 221-0789 or from me at 223-1371 or phvicars(at)gmail.com. We are awaiting your calls!


Now, take a little rest, then get ready for the November 11 Outback Steak House's 10th Anniversary Blow Out! They are setting up tents, a band stand for the great group Odisea from Ciudad Guzman, a dance floor to make this event one never to be forgotten.


Tickets are only $400 pesos and for that you get all you can eat from Outback's most celebrated menu, a drink and a ticket for the raffle, first rate music and entertainment. Then for only $40 pesos, you can buy extra drink tickets from young people who will be circulating selling those and raffle tickets. There will be fabulous raffle prizes, a live auction featuring a Toyota truck and a silent auction with many valuable prizes.


Outback, continuing their commitment to the charities of the community is donating all proceeds from the event to three important and deserving charities for Vallarta's young people. Casa Hogar Maximo Cornejo Quiroz A.C., which has as its mission to give shelter to low-income children who have been abandoned and to improve their lives. Pasitos de Luz have as their mission support of low income Puerto Vallarta-area families with free daycare for their disabled children.


Becas Vallarta A.C., founded in 1961, has as its mission to provide funding to students with high academic ability and almost no economic resources. The scholarships begin for young people in 8th grade and continue all the way through University, as long as the student continues to meet the criteria of the foundation, a grade point average of 8.5 or above, high motivation, enrolled in public school, live in the Puerto Vallarta area and display good citizenship at home and in school.


For this school year Becas is funding the education of 111 junior high students, 135 senior high students and 131 university students for a grand total of 376 students receiving scholarships from Becas Vallarta.


Since the Anniversary event is being staged in the parking area of the Steak House, you should plan to come in public transportation as there will be no parking. The event starts at 8:30 pm, but you might want to get there early to find a table and get settled in.


For tickets you can call me at (322) 223-1371 or 044-322-182-0215 or email me at phvicars(at)gmail.com or call any other member of Becas or any member of Casa Hogar or Pasitos de Luz. As always tickets must be purchased in advance and are limited, so please get yours early!


After a few days rest, Becas Vallarta will be staging its first Becas Breakfast for the 2010-2011 season at Coco's Kitchen on Wednesday, November 17 at 9:30 am. These breakfasts have become famous for good food, good fellowship, fabulous raffle and silent auction prizes donated by many of Vallarta's most prestigious businesses.


Tickets are still only $150 pesos, which is shared equally between the host restaurant and Becas. All members of Becas have tickets to sell as does Coco at the restaurant on Púlpito. We have always sold out of tickets for every breakfast, so get yours soon so you won't be the one who missed out on this joyous occasion. Email me or call me at the numbers above.


We are looking forward to seeing all of ya'll at each of these events! Just think: fine food, fun and fellowship, golfing on a gorgeous course, super prizes, magnificent music and the opportunity for all of us who are lucky enough to live or visit this paradise by the sea to share our largess!
---

Polly G. Vicars and her husband of almost 60 years, Hubert (a.k.a. "Husband") retired to Puerto Vallarta in 1988 and soon became active members of several charitable organizations. Polly is the author of "Tales of Retirement in Paradise: Life in Puerto Vallarta, Mexico" [a sell-out!] and "More Tales of Retirement in Puerto Vallarta and Around the World." Proceeds from the sale of her books go to the America-Mexico Foundation, a scholarship foundation that is their passion.

Click HERE for more articles by Polly Vicars, or click HERE to learn more about Becas Vallarta and the America-Mexico Foundation.
Tell a Friend
•
Site Map
•
Print this Page
•
Email Us
•
Top