Entertainment
Puerto Vallarta New Year's Eve Party Guide

PVNN
December 20, 2010

Puerto Vallarta Mexico offers all of the necessary ingredients for a magical experience that will make your New Year's Eve celebration an occasion to remember! Whether you choose to listen to live music, enjoy fine food and drink, dance the night away - or all of the above - Puerto Vallarta is the ideal place for those in search of the perfect New Year's Eve party.


Some people choose to "take it to the streets," wandering in and out of the many bars and restaurants in El Centro or dropping in on the Olas Altas street party before heading to the Malecón for the city's New Year's Eve celebration, Fusión de Sentidos: Fiesta Vallarta 2011 - which promises to be the best in years - or down to Los Muertos Beach to watch the firework displays over the bay at midnight.


Others book an "all-inclusive" evening of food, drinks and dancing 'til dawn at a Banderas Bay area hotel or resort, while still others choose to reserve a table at one of Vallarta's numerous gourmet restaurants for an intimate evening of wining, dining and romance.


Whatever your preference, our Guide to Banderas Bay's Best Places to Party on New Year's Eve will give you a closer look at some of the most spectacular celebrations taking place in Puerto Vallarta and around the bay on the last night of 2010.


2010 New Year's Eve celebrations will be added to our Puerto Vallarta Party Guide as more information becomes available, so check back often for additional venues.


• • •


Party Boys Bring On the New Year
Party Boys want to make Puerto Vallarta the number one event for the gay community to bring in the new year from December 29 through January 2. (more info HERE)


Join Planet X Television at El Dorado for the New Year
Come party this New Year's Eve with Planet X Television, the premier extreme cable sports channel in the United States, at the legendary El Dorado Beach Club and Restaurant. (more info HERE)


"Fiesta Vallarta 2011" New Year Party Update
The DJ line up for the Puerto Vallarta New Year´s eve party at Oscar´s on the Cuale river island – Fiesta Vallarta 2011 - in the heart of the Puerto Vallarta´s historic center has been revealed. The 4-DJ, 8-hour + set promises to keep Vallartenses and visitors alike dancing to the wee hours of the morning on New Years eve and new years day. (more info HERE)


• • •


AmapaSunset Restaurant & Beach Club
Amapas #114, Romantic Zone


New Year's Eve on the beach at AmapaSunset - Don't miss it... Live it! You'll enjoy a four-course dinner that includes: a Waldorf Salad on sangria lettuce -or- Crepes stuffed with shrimp, squash blossoms and avacado sauce; Soup "Paris" au gratin, setas and mushroom duo, cheese and puff pastry; Beef Tenderloin Wellington-style with Grand Marnier sauce and cambray potatoes -or- Red Snapper Fillet with raspberry sauce, coriander-potato puree and asparagus; a Brownie with vanilla ice cream, the 12 grapes of happiness, a glass of French sparkling wine, a live DJ for dancing and a ring-side seat for the fireworks show - all for $730 pesos per person for adults or $300 pesos for children. (Not including tip.) Call (322) 222-1695 to make your reservations by December 27 and save 10%! They'll also be offering an open bar from 8 pm to 12:30 am for just $400 pesos per person.


Daiquiri Dick's
Olas Altas 314, Romantic Zone


Ring in 2011 at Daiquiri Dick's Restaurant with fabulous food, live entertainment, festive fireworks and a glass of bubbly! A three-course New Year's Eve dinner will be available from 5-11 pm featuring your choice of: Oysters on the half-shell with Champagne Mignonette -or- Potato and Leek Soup; a main course of Ancho Seared Duck Breast with Red Mole and Tomatillo-Avocado Salsa -or- Seared Wild Alaskan Salmon over lemon risotto and arugula with shaved Parmesan and gremolata -or - Spaghetti Frutti di Mare, and Bittersweet Chocolate Tart with Coconut Gelato for dessert. There will be a $400 peso cover charge after 9 pm. Reservations are highly recommended for this festive night of food and fun. Please call (322) 222-0566.


El Dorado Restaurant
Pulpito 102, Romantic Zone


El Dorado's tropical beachfront ambiance provides an excellent backdrop for the festivities and a ring-side seat for the fireworks that explode all across Banderas Bay at midnight. On December 31st you'll enjoy a five-course New Year's Eve Dinner that includes your choice or Seafood Bisque -or- Potato and Leek Soup; Organic Mezclun with fried goat cheese, orange gelee and vanilla bean vinaigrette; Tamarind & Mint Sorbet; Grilled Prime Rib and Lobster Tail with dill-horseradish butter, roasted garlic mashed potatoes and grilled asparagus; and a dessert of Chocolate & Bourbon Semifreddo with gold leaf and wild mixed berries, followed by the traditional 12 grapes and sparkling wine toast at midnight. You'll also enjoy a Live Latin Band and a DJ for dancing under the stars on our tropical beach dance floor and a New Year's Eve celebration kit. Prices start at $750 pesos per person. With only two seatings (at 6 pm and 9 pm,) this fabulous celebration is available by reservation only, so call (322) 222-4124 to make yours today. Click HERE for entertainment info.


Encore Restaurant and Jazz Bar
Avenida del Pacifico No. 15, Bucerias Centro, Riviera Nayarit


Encore is "the" place to celebrate your New Year's Eve Party. We offer a 3 course menu for $380 and live music by Armi Grano and the Viva Jazz Trio plus dancing, countdown, party favors and the best place to watch the fireworks display around Banderas Bay at midnight. Reserve your seats now in our palapa balcony or our cozy main bar/dining room. Everyone is invited in welcoming 2011! Cover charge of $50 pesos for those coming for drinks only. Visit the website at EncoreOnTheBeach.com.


Kaiser Maximilian
Olas Altas #380 B, Romantic Zone


Kaiser Maximilian Restaurant's prime location, right in the middle of Olas Altas street, makes it the perfect place to spend an unforgettable New Year's in Puerto Vallarta! Starting at 8 pm (last seating at 9 pm,) in addition to a front row seat to all of the Olas Altas street party action, you'll enjoy a spectacular five course meal of Salmon Strudel with spinach, pernod sauce, mixed greens and nuts; Duck Terrine with sweet potato gnocchi and cranberry sauce; Red Snapper Fillet with risotto, cauliflower and smoked chilies; Beef Tenderloin with creamy raclette, brussels sprouts, potato gratin & mushrooms; and Milk Chocolate Pound Cake, cherries and butterscotch ice cream - plus a DJ playing music for dancing and a glass of Sparkling Wine - all for just $990 pesos (aprox. $83 USD) per person. Gratuities not included. Prepaid Reservations are required and can be made online at KaiserMaximilian.com or by calling (322) 223-0760.


Le Kliff Restaurant & Bar
Km. 17.5 Carr. a Manzanillo


Celebrate New Year's Eve at "The Most Beautiful Restaurant in Mexico." Enjoy a Welcome cocktail followed by a fabulous three-course meal with seatings from 6-10 pm. On the menu is Cream of Shrimp and Saffron Soup with porro and chorizo flan; followed by Cabernet Sauvignon basted Grilled Tenderloin and Pacific Shrimp Chocolate with carmelized onions and asparagus wrapped in Prosciutto. Chocolate cake with warm white chocolate sauce, wild fruit coulis and vanilla ice cream will be served for dessert, followed by Petit Fours. You'll also enjoy live Mariachi music at 9 pm, DJ music for dancing, and the 12 grapes of happiness and sparkling wine toast at midnight. The price is $800 pesos per adult and $350 for children. Gratuities not included. Reservations are a must and can be made by calling (322) 224-0975.


No Way José!
5 de Febrero #260, Old Town Vallarta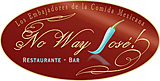 Vallarta's "Best New Restaurant" in 2010 has selected a few of the year's favorite dishes and put them together on one special menu for New Year's Eve. What a better way than spending the last night of 2010 at No Way José! Seating is limited so make your reservations today by calling (322) 223-2853 or online at NoWayJoseMX.com. Click HERE for special New Year's Eve menu.


River Café
Isla Río Cuale 4, Old Town


There's no better place to ring in the New Year in Puerto Vallarta than at The River Cafe. This year they have a great party planned that includes everything you need to have a delicious and fun evening! They'll be serving up an exquisite 5 course menu with Warm Peach & Prosciutto Salad with radicchio, arugula, thyme, gorgonzola and pine nuts; Homemade Ravioli stuffed with Ricotta & Arugula in a Trapanese Pesto with chile and bail oil; Grilled Swordfish with zucchini, green olives and tomato with anchovy and caper sauce; Buttered Seared Steak Filet with ancho starbuck spice and scallop potatoes with Pasilla chili and Portobello; followed by a dessert of Chocolate Ganache with roasted pecans with white chocolate and fresh berries. You'll also enjoy party favors, live music and a show - all for $800 pesos per person.


Trio Restaurant Bar Cafe
Guerrero #264, El Centro


For New Year's Eve Trio has created a special 6-course menu using the best local ingredients available prepared with the focus on flavors and interesting combinations for the palate. You'll start with the Chef's selection of Tapas from the sea, followed by MOuntain Quail stuffed with foi gras on mushroom ravioli leeks and 5 spice sauce; Lime Tequila Sorbet; Duo of Braised Veal Roast and Pepper-crusted Veal Filet with melted Provolone and red wine sauce on mashed potatoes with fine vegetables; and an Almond & Raspberry Tart with homemade white chocolate ice cream and a triple dark chocolate brownie for dessert. You'll also enjoy romantic live music and festive New Year's Eve decorations. Price: $980 pesos (+ gratuities) per person. For reservations, call (322) 222-2196.
Tell a Friend
•
Site Map
•
Print this Page
•
Email Us
•
Top