Puerto Vallarta, Mexico - Becas Vallarta's first breakfast of the new year will be this Wednesday, January 16th, at 9:30 am at Daiquiri Dick's. Tickets are only $150 pesos and must be purchased or reserved in advance with any member of Becas Vallarta. You can also e-mail me at phvicars(at)gmail.com.
This fun event helps to keep our coffers full to fund our almost 400 scholarship students. We will have a fabulous menu, served hot by Daiquiri Dick's renowned efficient and courteous waiters. The full menu consists of orange juice and coffee along with your choice of: Chilaquiles with grilled chicken and refried beans, or scrambled eggs and ham served with home fried potatoes, or french toast with caramelized apple and raisins.
As usual, we have a fantastic array of prizes you can win in our raffle. The generous business people of Vallarta never fail to help the young people of this village by donating to our every event. Some of the prizes you can win with one raffle ticket for $50 pesos or three tickets for $100 pesos come from: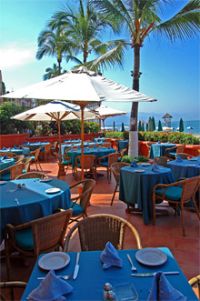 Daiquiri Dick's
Andale Restaurant,
Archie's Wok,
Cafe des Artistes, Cafe de Olla, Casa Isabel, Cassandra Shaw, Christina Rodriguez,
Daiquiri Dick's,
El Arrayan,
Flowers to Go, Freddy's Tucan, Galeria Vallarta, June Rosen Jewelry,
LaPalapa
, Lucy's Cucú Cabaña, Mi Café, Mundo de Cristal, Mundo de Pewter, Museo Peter Gray, Nacho Daddy, Marcelo Mico Pilates, Ohtli Spa Marriott Casa Magna,
No Way José,
Polo's Restaurant, Red Cabbage,
River Café,
Salon Diva, Sandrina's Restaurant, Sea Monkey, Taste of Italy, Tony's Please, Vallarta Botanical Garden, Viveros La Primavera,
Xocodiva Artisan Chocolates,
and more!
Our silent auction will feature original paintings by Heidi Snowden, Mary Ellis, and Martin Corona; jewelry from Lalo Morales and Galeria Vallarta; plant pot from Mundo de Azulejos; fresh flower arrangement from Maripepa's Floart; tile by Juan Ramon, and more. Hope to see some strong bidding on these lovely items.
So get ready to greet returning friends, visiting friends from the cold North, and new friends at this first Becas Event of this season. Up coming events include the February 13th Becas Breakfast at the River Café, the March 8th Becas Ball at the lovely venue by the Sea at Club Regina, and the April 17th Becas Breakfast at Coco's fabulous restaurant on Púlpito.
Hope to see you at each of these fun events.
---

Polly G. Vicars and her late husband, Hubert (a.k.a. "Husband") retired to Puerto Vallarta in 1988 and soon became active members of several charitable organizations. Polly is the author of "Tales of Retirement in Paradise: Life in Puerto Vallarta, Mexico" [a sell-out!] and "More Tales of Retirement in Puerto Vallarta and Around the World." Proceeds from the sale of her books go to the America-Mexico Foundation, a scholarship foundation that is their passion.
Click HERE for more articles by Polly Vicars
, or
click HERE to learn more about Becas Vallarta and the America-Mexico Foundation.