Vallarta Living
Becas Brunch & Fashion Show at La Leche Another Fabulous Event

Polly G. Vicars - PVNN
February 25, 2010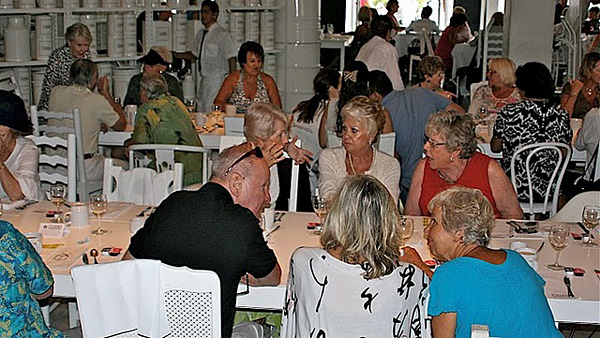 Happy Brunch goers in the minimalist La Leche's main dining area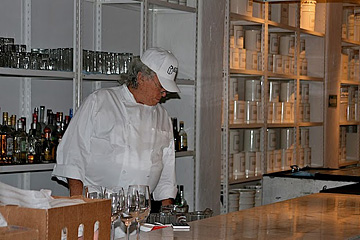 Nacho Cadena checking on every detail for for his son, Chef Alfonso Cadena of La Leche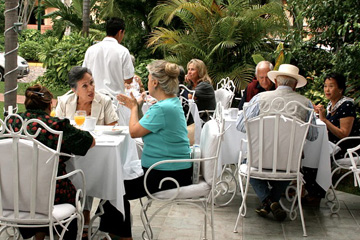 The garden area was beautiful and filled with beautiful people, including President Mariel de Fregoso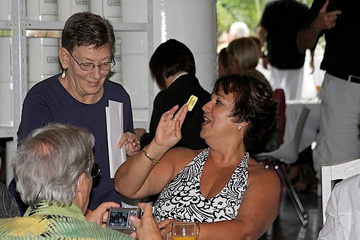 Raffle winner Aurora de la Torre collects her prize from hard working Becas member Linda Wirth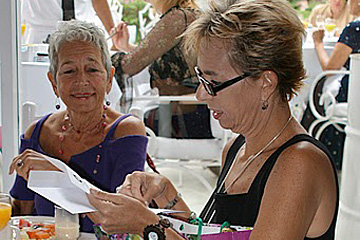 Pam Thompson examines her raffle prize of two bottles of champagne donated by El Coyul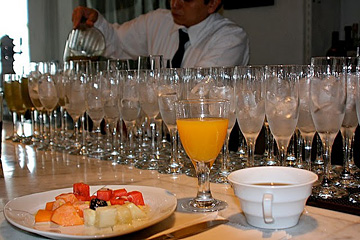 Beautiful fruit plate came before the delicious main course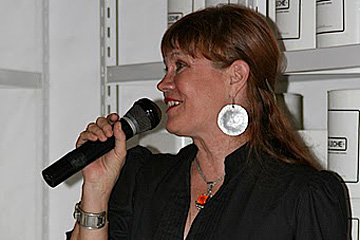 Toody Walton staged the well received fashion show with items from her stores in the Romantic Zone and Plaza Neptuno, Colección La Bohemia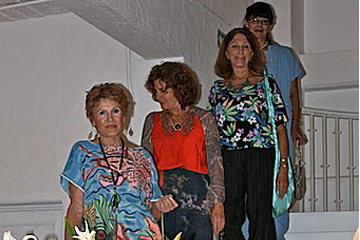 Models Felicitas, Liz, Kayte and Windy. You can hear and see Liz and Kayte with the QuesaDivas next month at bite me! Beach Club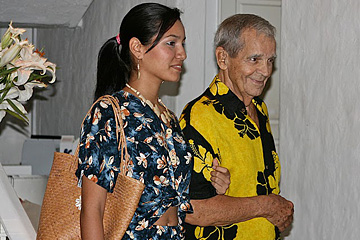 The beautiful Vallartense model Kenya, escorting Husband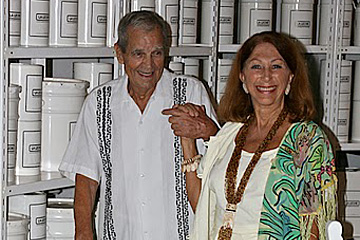 Kayte took her turn with Husband in that gorgeous shirt that I just had to buy for him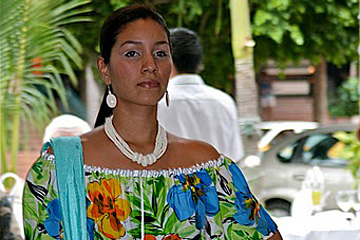 The glamorous Kenya showing off a beautiful design by Toody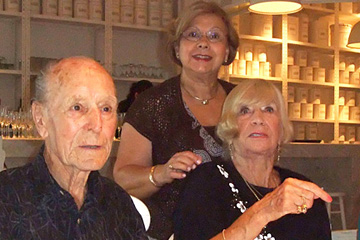 Author and generous donor to Becas Ingé Lökös with Becas member Teressa Ryssemus and friend Willy
On Wednesday, February 17, La Leche, the restaurant that is usually only open in the evening, was filled to capacity at 10:30 in the morning! Becas supporters were entranced with the all white venue that is in such contrast to the usual colorful Puerto Vallarta restaurant.


Chef Alfonso Cadena, son of respected local Chef Nacho Cadena, simply wowed everyone with his menu of fresh squeezed orange juice, beautiful fruit plate with yogurt and basil, followed by quiche with bacon, scrambled eggs with spinach and fresh baked rolls. Everything was topped off with delicious sweet rolls and colorful mojitos.


From the garden through to the second dining to the front areas, happy attendees were chatting with each other, reading the latest Becas newsletter and buying raffle tickets. Becas Compadre Len Ambrose with his team of Richard Bendix and Carl Johnson set a goal of selling the most raffle tickets at any Becas event which they reached by netting a total of $15,400 pesos!


And the lucky buyers won many valuable prizes all donated by the great businesses of Puerto Vallarta: Archi's Wok, bANANaCANtiNA, Casa Isabel, Cassandra Shaw, El Coyul, Daiquiri Dick's, El Arrayán, Hacienda Jalisco, Galería June Rosen Lopez, Colección La Bohemia, Lalo Morales, La Palapa, Lunch With Hank & Conrad at Cafe Bohemio, Los Veranos Canopy Tour, Marcelo Mico Pilates, Puerto Vallarta Botanical Gardens, River Café, Tikul, Tony's Please, Toya's Salon, Vista Grill, and Xocodiva Artisan Chocolates.


Ingé Lökös was there to enjoy the fellowship and support Becas. Ingé is selling the last of her late husband Stefan's paintings on her new website lokos.hostei.com and is donating 10% of all sales to Becas. She presented us with $3,900 pesos from her first sales with more to come. This is an opportunity for you to own a fabulous collector's artwork, an original Stefan Lökös, and contribute to Becas. Go to her website and choose your treasure before they are all gone.


Mary Ann Runaldue was also there in support of Becas. She and her Associación de Residentes Grand Venetian, A.C. held a raffle on New Year's Eve and raised $10,000 pesos which she presented to us at the Brunch. How wonderful that the community keeps thinking of ways to make Becas Vallarta stronger and more solvent. Thank you Ingé and Mary Ann.


After the sumptuous brunch, with the genial and generous wait staff still pouring Mojitos, the guests were treated to a fashion show staged by Toody Walton with clothes and accessories from her fabulous Colección La Bohemia.


Lovely models descended the steps showing the latest fashions designed by Toody herself. She surprised the group with a male model, none other than Husband AKA Hubert Vicars, who admirably showed her superb collection of men's shirts as he modeled on the arm of one or the other of the graceful models.


After the show, Toody had a trunk showing of the fashions shown and some extras from one of her two shops, located at Constitución and Basilio Badillo and at Plaza Neptuno. She is generously donating 5% of her sales at the Brunch to Becas Vallarta's scholarship fund. And she is continuing to donate that percentage from all sales until the end of February if you mention Becas Vallarta to the sales person. So if you need something from La Colección, and who doesn't, buy it before the end of February so that you can be a part of changing local girls and boys lives through education.


A huge thanks to all of the attendees, donors and to Nacho, Alfonso and Toody for a beautiful and lucrative event.


The next Becas Vallarta event is the March 11, 2010 Becas Ball at the Club Regina in the Marina. The Ball is considered by most Vallartenses as the social event of the year and tickets always go fast.


The event starts at 6:30 with a complimentary Margarita Hour and music by Los Bambinos. Then at 8:00 a sit down dinner will be served with music for dining and dancing by Grupo Odisea from Ciudad Guzman. White and red wine will be on each table to complement the gourmet dinner.


There will be no live auction, but an extensive silent auction of incredible items such as a Laliche Caviar Dish, stays in exotic locals across Mexico to fine original paintings by Vallarta's best artists to golf twosomes at Club Punta de Mita to dinners in 5 star restaurants.


Ball tickets are only $850 pesos each and must be purchased in advance. A table for 10 can be reserved if you purchase at least six tickets. To make your reservations and get your tickets please call President Mariel de Fregoso at (322) 221-0789 or me at 223-1371. Only 40 tickets of 400 left, so don't wait any longer - call us!

---

Polly G. Vicars and her husband of almost 60 years, Hubert (a.k.a. "Husband") retired to Puerto Vallarta in 1988 and soon became active members of several charitable organizations. Polly is the author of "Tales of Retirement in Paradise: Life in Puerto Vallarta, Mexico" [a sell-out!] and "More Tales of Retirement in Puerto Vallarta and Around the World." Proceeds from the sale of her books go to the America-Mexico Foundation, a scholarship foundation that is their passion.

Click HERE for more articles by Polly Vicars, or click HERE to learn more about Becas Vallarta and the America-Mexico Foundation.
Tell a Friend
•
Site Map
•
Print this Page
•
Email Us
•
Top