Puerto Vallarta, Mexico - According to Dictionary.com, perfection is "the highest degree of proficiency, skill, or excellence" and "exactly fitting the need in a certain situation or for a certain purpose." The March 9, 2012 Becas Ball fit both descriptions.
What makes an event perfect? I am sure there are many answers, but for Becas Vallarta, A.C. to achieve this perfection, I am convinced it is the result of an incredible cadre of volunteers headed by Presidents Mariel and Carlos Fregoso and the generous business community of Puerto Vallarta.
To inspire people to do the dedicated work required to achieve perfection, the cause must be monumental. Becas Vallarta's cause is just that - the funding of the education of as many of Puerto Vallarta's bright young economically deprived students as possible.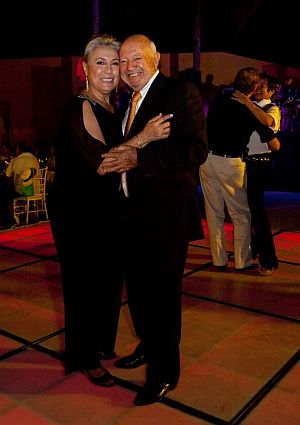 Becas presidents Mariel and Carlos Fregoso
In 1993, Becas Vallarta inaugurated the Becas Ball as its prime fund raiser to reach that goal and almost from its inception, this Ball has been the social event of the Puerto Vallarta season, eagerly anticipated by patrons and generously assisted by local businesses.
At this year's event guests arrived to the Spanish themed extravaganza dressed in a swirl of red, black or white to a scene of lavishly decorated tables amid gauze curtains swaying from the breezes of the Bahía de Banderas.
The ample garden area was graced with groups of white seats and benches adorned with gorgeous arrangements of flowers with an elaborate bar set at one end of the garden. Mango's Beach Club sponsored the cocktail hour with their handsomely clad servers keeping everyone's thirst quenched with a variety of exotic drinks. At the other end of the garden, staunch advocates and sponsors of Becas Vallarta, Los Bambinos, dressed in red shirts and sparkly black vests, enchanted the guests with their marvelous repertoire of both Spanish and American music.
Nearby were tables of Silent Auction items arranged by Joan and Ed Cannon, Mary and Alfredo Franco and Jenny Jenkins with auction sheets by Margaret Tolton. These items were donated by more than forty businesses from Puerto Vallarta, Guadalajara, Mexico City, Guanajuato, Tlaquepaque and Manzanilla.
Guests were eagerly bidding on grand meals from Vallarta's best restaurants: Archie's Wok, Café des Artistes, Casa Magna Marriott Mikado, Coco's Kitchen, Daiquiri Dick's, El Arrayan, Joe Jack's Fish Shack, La Palapa Restaurant, Mango's Beach Club, No Way José!, No Name Bar & Grill, Polo's, River Café, Sonora Grill Prime and Vallarta Botanical Gardens.
Those looking for a few nights in luxury were bidding on stays at hotels, bed and breakfasts and inns: Alma del Sol/Casa Espiritu Alegre - Guanajuato, Casa Magna Marriott - Puerto Vallarta, Casa Encantada B & B - Patzcuaro, Casa Isabel - Puerto Vallarta, Dickinson Guest House - Guadalajara, Four Seasons - Mexico City, Grand Bay Hotel - Manzanilla, Hacienda San Angel - Puerto Vallarta, La Perla - Guadalajara and Quinta Don Jose - Tlaquepaque.
For those more interested in casa decoration, bids were animated on Jim Demetro's donation of the clay model "Flamenco Dancer with Fan" inspired by the talented Xiutla Folkloric Dancers of Puerto Vallarta. (The beautiful model for the statue, Erendira Meza, was one of the dancers who thrilled everyone later in the evening.) The clay model will be molded and cast into bronze for the buyer.
Bids were also brisk on original art by Ada Colorina, Steve Fisher and objects d'art from Elements of Design, Lalo Morales Articulos Mexicanos, Galleria Dante, Contempo Galería, Lucy's Cucú Cabaña, Villa Maria, Galeria El Manantial - Patzcuaro, Lady Faith, the late Stefan Lökös as well as Maripepa Gonzalez's Florart's fresh arrangement of exotic flowers.
The gals sharpened their pencils to bid on Ted Pentecost's donations of Manuel Morelos pottery and Cassandra Shaw's beautiful jewelry, a treatment at Med & Spa or a basket of Xocodiva's Artisan Chocolates. And bidding was vigorous by golfers who wanted to play at Vallarta's famous golf courses: Flamingos Golf Club, Marina Vallarta Golf and Club Punta de Mita. The more adventuresome were bidding on a Canopy Tour from Mundial Nogalito and a Jay and Marla Downen's Wilderness Adventure in Montana.
Earlier in the day, Marcelo Mico and his helpers, Chely Partida, Fabiana Mico, Christina Larson de Morelos filled 300 bags, contributed by Marcelo, with items donated by local businesses: colorful Mexican Dolls made from corn husks from Lalo Morales Articulos Mexicanos, Decorative candles from Elements of Design, Refrigerator magnets with emergency numbers from Timothy Real Estate Group, Pens, wallets & various souvenir s from Vector Casa de Bolsa, Book "More Tales of Retirement in Puerto Vallarta" from Becas Vallarta, Discount cards from Cassandra Shaw Jewelry, June Rosen Lopez Jewelry, Mango's Beach Club, Fishing with Caroline, Melchor's Spanish Language School and Restaurant & Bar Sierra Vallejo.
This is Marcelo's second year sponsoring these fun-filled bags and he is already talking about making them even better next year! Beyond the Silent Auction tables were dining tables magnificently set and decorated by Rocco Troyani, a huge stage for the imposing Grupo Odisea Band and Show, two glass dance floors and the beautiful Bahía de Banderas. When guests took their seats they found on each chair those Gift Bag prepared earlier by Marcelo Mico Pilates.
Waiters were every where delivering each guest's meal promptly. They expertly served the four course meal, which began with Gazpacho with Vegetables, followed by Spinach Salad with Serrano Ham and Roquefort Cheese Vinaigrette, a choice of Filet of Dorado or Breast of Chicken, finishing with an assortment of Petit Fours. The meal was augmented by red and white wine donated by Liverpool, Vinisterra and Trio.
While guests were dining, President Mariel de Fregoso, with the help Vice President Linda Wirth and seventeen university scholarship students, awarded magnificent door prizes to lucky winners. Prizes awarded were four Alebrijes, the brightly colored Mexican folk art sculptures of fantastical creatures donated by Intercam, two nights in Villa de Sevilla donated by Ron Morgan Real Estate and the prize of prizes, a pink sapphire pendant surrounded by diamonds and set in white gold designed and donated by Nino Foppiano of Mexico City.
Famed photographer Josef Kandoll memorialized the event with his exceptional photos and offers them for sale to everyone online. You can get a high resolution digital image for $150 pesos which will go to Becas Vallarta. Check out his Facebook page, where you will find Becas Ball photos as well as beautiful ones of the Xiutla dancers.
During the evening Grupo Odisea entertained with beautiful dance music, vocal solos by gorgeous women and handsome men, instrumental solos by masters of the saxophone, trumpet and more. Dancers occupied both dance floors during the evening giving credence to the name "Ball". President Mariel, always thinking of the guests, distributed red scarves for the men and red carnations and little veils for the women carrying out the Spanish theme. But the icing on the cake was the appearance of Puerto Vallarta's own Group Xiutla.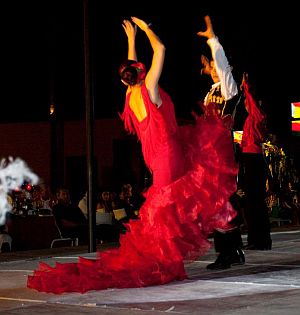 The Xiutla Folkloric Ballet performed their incredible Bolero de Ravel at the 2012 Becas Ball.
Founder and Director Professor Enrique Barrios Limón of Xiutla Folkloric Ballet volunteered his dancers for this event and when he introduced his troop of dancers to perform their incredible Bolero de Ravel for this special Becas Ball, the crowd drew a collective breath. Clad in bright red and black these dancers entered the site to earsplitting applause.
They mounted their specially built stage and had the audience of guests as well as servers, students and workers in absolute awe! Almost everyone was standing and applauding at every opportunity. As the Bolero came to its finale, fireworks shot into the sky behind them adding that crescendo to the already spine thrilling music.
We came back to earth as Grupo Odisea took to their stage and the dance floors filled again. The feeling of pleasure, satisfaction and pure joy seemed to envelope the site. Guests had an awesome evening while funds were raised so that Becas Vallarta can continue another year of funding the educations of the almost 400 scholarship students. Perfection had indeed been achieved!
Words of thanks to the people of Vallarta who always support us, and to the benefactors who absolutely were dedicated to achieving that perfection, including: Julia Perez and her staff at the Club Regina, Rocco Troyani and his decorating crew, Los Mango's Beach Club and its staff, Los Bambinos, Grupo Odisea, Professor Barrios and Xiutla, Marcelo Mico Pilates and his helpers, Liverpool, Trio, Vinisterra, Ron Morgan, Intercam, Nino Foppiani, Josef Kandoll, Joan and Ed Cannon, Mary and Alfredo Franco, Jenny Jenkins, and Margare Tolton.
Special thanks and recognition also go out to all of our awe-inspiring silent auction and door prize donors. Becas Members shop, dine and play with businesses that support Becas Vallarta, A.C. because they believe as we do that Education is the future for our young people and our city. Please do the same and help us thank each of them for their support and dedication to our over fifty year foundation that is changing lives through education for the young people of Puerto Vallarta. Olé!
---

Polly G. Vicars and her late husband, Hubert (a.k.a. "Husband") retired to Puerto Vallarta in 1988 and soon became active members of several charitable organizations. Polly is the author of "Tales of Retirement in Paradise: Life in Puerto Vallarta, Mexico" [a sell-out!] and "More Tales of Retirement in Puerto Vallarta and Around the World." Proceeds from the sale of her books go to the Becas Vallarta / America-Mexico Foundation, a scholarship foundation that is their passion.
Click HERE for more articles by Polly Vicars
, or
click HERE to learn more about Becas Vallarta and the America-Mexico Foundation.