Puerto Vallarta, Mexico - For me, the best "good thing" I know is the America-Mexico Foundation, Inc/Becas Vallarta, AC. Why? Because for over fifty years a small group of women, men, Mexican, American, Canadian, straight, gay, young and old have worked tirelessly to raise the money to fund scholarships for Vallarta youth of great ability, but lacking economic backing to meet their educational goals - no matter how high the goals.
That brings us to the March 8, 2013 Becas Ball, Vallarta's grand fund raiser and social event of the year at the Club Regina Los Arcos Patio in the Marina.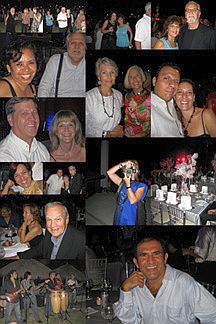 Changing Lives while Having a Ball... 'Becas Style'
Through this "good" event, we raise funds to sustain our commitment to over 400 young Vallartenses that as long as they meet our criteria, we will fund their educations until the goal is met. Some stop after high school, but most opt to go on to university, thus we must continually raise funds.
"Wonderful" insufficiently describes what is in store for those of us who attend the Ball. At 7 pm a cocktail party, hosted by the Punta Mita Four Seasons Hotel will begin the festivities in the Club Regina Patio's garden.
This event will also give everyone a great opportunity to view and bid on the fabulous array of gifts we have for the Silent Auction, which should certainly be put in the category of "wonderful," not only because of the quality of the gifts, but because all were donated to us with no strings attached!
Bring your pesos (and check books) to partake in bids for paintings and other decorative items for your home or condo; for superb dining in Vallarta's best restaurants as well as for week-ends in some of Mexico's finest hotels, B&Bs and resorts, in and out of Puerto Vallarta. A partial list of our Silent Auction gifts are listed below.
Ada Colorina Signed Etching "Pecera" 14 of 20 • Ada Colorina Original Painting "Charras" on Acrilico Tela • Alma del Sol/Casa Espiritus Alegre Two Nights for Two People in Either Resort • Archie's Wok Gift Certificate for Dinner • Café des Artistes Gift Certificate for Gourmet Dinner for Two • Casa Isabel One Week in a Deluxe Suite for Two • Casa Magna Marriott Mikado Gift Certificate for Dinner for Two • Casa Magna Marriott Two Nights for Two People • Casa Encantada B&B-Paatzcuaro Three Nights for Two with Breakfast • Club Punta de Mita Twosome Round at Jack Nicklaus in Punta de Mita • Coco's Kitchen Gift Certificate for Dinner • Daiquiri Dick's Gift Certificate for Dinner • El Arrayan Gift Certificate for Dinner • Elizabeth Johnson Painting "Waves" • Florart Floral Arrangement • Four Seasons Mexico City Two Nights for Two People-Weekends • Grand Bay Hotel Two Nights for Two People • Hacienda San Angel Two Nights for Two People in a Junior Suite • La Palapa Restaurant Gift Certificate for Dinner • La Perla-Guadalajara Two Nights for Two with Breakfast • Lady Faith Bolsa • Lalo Morales Handmade Vase Made of Magazine Pages with Paper Flowers • Manuel Robles Framed "Huichol Wedding" Painting • Palm Pod Painted with Carrying Case • Quinta Don Jose-Tlaquepaque Two Nights for Two People • River Café Gift Certificate for Two Pre-Fixed Dinner for Two • St. Regis Punta Mita Resort Two Nights for Two People Deluxe Ocean View • Stefan Lökös Framed Prints • Vallarta Botanical Gardens Live Orchid • Vallarta Botanical Gardens Two Bromeliads • Villa María 3 Large Decorative Pillows
You could win one of our fabulous door prizes by just attending the gala. You could win Champagne and red wine, compliments of Coyul Licoreria; spa pass for the Marriott Casa Magna; Tote bag and T-shirts from Museo de Peter Gray; Provecho Deck of discount cards, a weekend in one of Ron Morgan's exquisite Vallarta villas; or gold and diamond jewelry by famed Mexico City Jeweler, Nino Foppiani.
After the cocktail hour, everyone will proceed to the Indian-themed dining area. Each table will be graced with one of Rocco Troyani's exquisite floral arrangements, decorations, and wine compliments of Trio Restaurant.
The menu, while sounding Indian, is actually International designed by our invited chef Gerardo Sandoval. This is what Chef Sandoval has planned for us: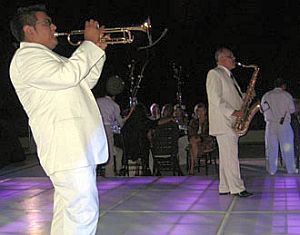 Grupo Odisea from Ciudad Guzman
• Salad Mumbai: Baby Lettuce with Sliced Strawberries and Passion Fruit Vinaigrette
• Soup New Delhi: Cream of Smoked Tomato with a Soupçon of Green Peppers
• Duo Taj Mahal: Marsala Marinated Chicken and Shrimp on a Bed of Mashed Potatoes with an Essence of Curry and Grilled Vegetables
• Delights of the Rahja: Chocolates, Mango Crème Brûlée, Mini Cheese Cake, Chocolate with Dark Sauce, Piña Colada Cup Cake, Coffee Cream Cup Cake
While dining on this delectable menu, Grupo Odisea from Ciudad Guzman will play a variety of dance music and entertain with talented women and men singers, dancers and soloists. Late in the evening a group will play their interpretation of Indian Music in a very unique show followed by fireworks and an end to a "wonderful" evening.
Just the Facts:
Becas Ball, Friday, March 8, 2013 7:00 pm
Tickets must be purchased in advance
Tables of ten can be reserved with the purchase of six tickets
Tickets are $100 US or $1300 pesos
We accept checks made to Becas Vallarta, A.C.
For tickets call Polly at 223-1371 or 044-322-182-0215 or write to phvicars(at)gmail.com, or Linda Wirth at 222-2034 or write to lindawirth(at)gmail.com.

To learn more about Becas Vallarta, click HERE or visit BecasVallarta.com. If you would like to volunteer or make a tax deductible donation, please call Polly Vicars at 011-52-322-223-1371 or Buri Gray at (322) 221-5285, or email becasvallarta(at)gmail.com.