Vallarta Living
Daiquiri Dick's Becas Breakfast Breaks Records

Polly G. Vicars - PVNN
January 22, 2010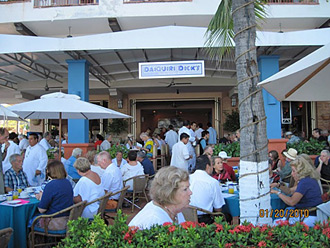 Daiquiri Dicks was rocking before the opening time of 9:30 a.m.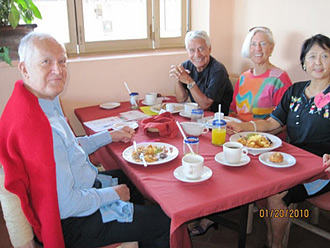 Becas members Cecil and Rod Scriban, organizers of the Concert Under the Stars with Becas supporters Judy Mike and Roberta.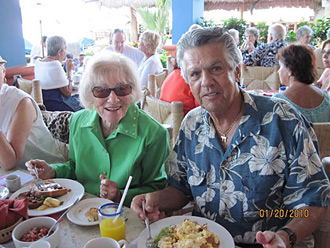 Becas Compadres Nellie and Len Ambrose, the champion raffle ticket seller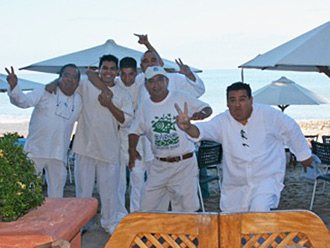 The wonderful Daiquiri Dick's staff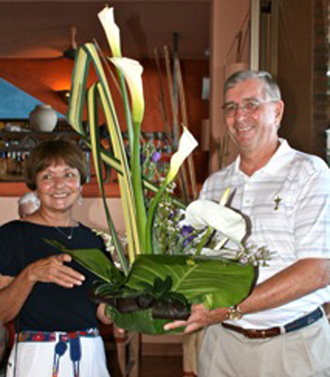 Becas Compadres Ann and Jerry Lafferty take home the beautiful floral arrangement donated by Maripepa's Florart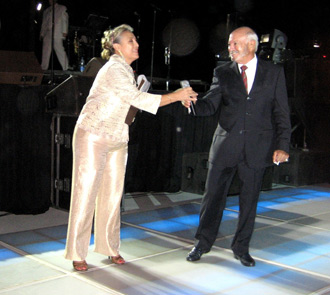 Our Presidents, Mariel and Carlos Fregoso
Daiquiri Dick's was rocking even before the January 20 Becas Breakfast start time of 9:30 am! The event broke records with the most entrance tickets sold, the most raffle tickets sold and many would say, the most fun!


The beautiful venue on Los Muertos Beach was filled with jovial and generous Becas supporters who were treated to a delicious breakfast of Chilaquiles with Scrambled Eggs and Refried Beans or Fabulous French Toast prepared and served by the efficient and affable Daiquiri Dick's staff.


Becas Compadre, Lenny Ambrose, with his great smile and his winning ways, once again sold the most raffle tickets, breaking his own fabulous record. The happy winners took home gift certificates for meals at Vallarta's finest restaurants, Archi's Wok, bANANaCANtiNA, Daiquiri Dick's, El Arrayán, Hotel Tropicana, Lunch with Hank and Conrad, Melissa's Restaurant, Mestizo Restaurant, River Café, Tikul and Vista Grill.


Others won a trio of herbs for their kitchen gardens as well as memberships for two from Vallarta Botanical Gardens. A month's membership at Curves and a Pilates lesson with Maestro Marcelo Mic. went to two lucky winners, as did a Canopy Tour for two and one lucky winner will have a memorable night in San Sebastian at Hacienda Jalisco.


Jewelry and gift certificates from our two lovely ladies, Cassandra Shaw and June Rosen, were won with shouts of glee as were the prizes from Lucy's Cucú Cabaña and Lalo Morales. And of course the lucky winner of the Xocodiva Chocolates was equally elated. Thanks to all our donors and all those who bought raffle tickets.


The Silent Auction saw spirited bidding and when the event ended, every item was sold, some for more than the original price! Thanks to our donors Lalo Morales, Maripepa's Florart, Vivian Santamaria, Luz del Carmen Peña, Juan Ramon, River Café, Mary Ellis, Col. R. C. Burkheimer, Arlene Flock, Jane Noble and Marilyn Kalman.


This record breaking event was also the debut of the 2009-2010 Becas Newsletter, which features our Becas Vallarta President Mariel de Fregoso and our America-Mexico Foundation President Carlos Fregoso of whom we are very proud! It also features scholarship students from junior high, senior high and university with their quotes on what these scholarships mean to them. You can read this interesting and informative newsletter by going to AmericaMexicoFoundation.com or BecasVallarta.com.


A huge thanks to the advertisers who make this publication possible: Cassandra Shaw Jewelry, Peyote People, La Piazzetta, The River Café, Sam Skidmore, El Arrayán, The Computer Store, PVRPV, Florart, Lucille Shipley's Painting Workshop, Galleria Dante, Archie's Wok, Spanish School Vallarta, Marcelo Mic. Pilates and Timothy, Fuller & Associates.


Tickets for our upcoming events have been going very fast. The first is the Concert Under the Stars featuring two generations, Mario Blanco and daughter Adriana Martínez on piano and guitar, on Friday, February 12, 2010 at 7:00 pm at the Club Regina on the shore of our Bahía de Banderas.


This is the second year this Becas Event will celebrate both academic and music education in our community. Mario Blanco is well known in our city's musical circles as an outstanding guitarist and trova singer. His talented daughter, Adriana, was admitted to the Institute of Fine Arts of the University of Colima, and is currently completing her fourth semester toward a Bachelor of Music as a concert pianist with Dr. Anatoli Zatin.


Tickets for this unparalleled event are $200 pesos in advance and $250 pesos at the door. To get yours, contact Cecile at (322) 223-4606 or celiatsascri(at)hotmail.com, Ricardo at 224-9966 or blm(at)prodigy.net.mx, Mario Blanco at 293-1038 or marioblanco(at)prodigy.net.mx or me at 223-1371, 044-322-182-0215 or phvicars(at)gmail.com.


The next event is the first ever Becas Brunch and Fashion Show at the trendy restaurant La Leche on Wednesday, February 17, 2010 at 10:30 am. The brunch will include national drinks and a special menu designed especially for Becas Supporters by Nacho Cárdenas and his son, Chef Alonzo.


The Fashion Show will feature Toody Walton's "Colección La Bohemia" from her two locations: Constitución and Basilio Badillo, Romantic Zone and Plaza Neptuno, interior garden, Local F-6, at Marina Vallarta, as well as hand painted originals by Tuino.


The jewelry and accessories that will be modeled are artisan-made, Mexican designs, some silver, many one of a kind pieces and the shoes will be from her great collection of San Miguel shoes. She also has shirts for men, so look for a surprise in that department.


After the event, Toody has agreed to have a trunk show for those who would like to stay to do a little shopping. She will offer 10% off for credit card purchases and 15% off for cash. Tickets to the event are $250 pesos and must be purchased in advance. For your tickets contact any member of Becas or me at the numbers above.


Also, don't delay purchasing your March 11, 2010 Becas Ball tickets! There will only be 36 tables of 10 and more than half have already been sold! Tickets are $850 pesos each or $8500 for a table of 10 and, of course, must be purchased in advance from any Becas member.


So a huge thank you to everyone at Daiquiri Dick's, our prize donors, our Newsletter advertisers and mostly to those of you who support Becas Vallarta event after event. You are truly changing lives of Vallarta's young people by giving them the opportunity to get the education they want and deserve!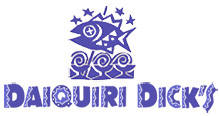 Daiquiri Dick's contemporary design exudes a quiet elegance that invites relaxation, and its tropical location at Olas Altas 314 on Los Muertos Beach offers the perfect atmosphere for enjoying spectacular views of Banderas Bay. For reservations call (322) 222-0566. For more information, visit DDPV.com.

Click HERE to read more about Daiquiri Dick's.
---

Polly G. Vicars and her husband of almost 60 years, Hubert (a.k.a. "Husband") retired to Puerto Vallarta in 1988 and soon became active members of several charitable organizations. Polly is the author of "Tales of Retirement in Paradise: Life in Puerto Vallarta, Mexico" [a sell-out!] and "More Tales of Retirement in Puerto Vallarta and Around the World." Proceeds from the sale of her books go to the America-Mexico Foundation, a scholarship foundation that is their passion.

Click HERE for more articles by Polly Vicars, or click HERE to learn more about Becas Vallarta and the America-Mexico Foundation.
Tell a Friend
•
Site Map
•
Print this Page
•
Email Us
•
Top